business
Nu Skin's Growth Could Stall Under Chinese Scandal
The direct seller has warned the controversy will crimp sales
By and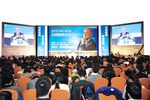 Nu Skin Enterprises has 40,000 salespeople peddling weight-loss kits and skin cleansers in China. Sales on the mainland had been chugging along in recent years, reaching 30 percent of the Provo (Utah) company's $2.16 billion in revenue for the first nine months of 2013. That growth is now threatened by the allegation in the People's Daily on Jan. 15 that Nu Skin is operating a "suspected illegal pyramid scheme." A day later, China's State Administration for Industry and Commerce said it would launch a probe into the company's operations. Nu Skin's shares tumbled 38 percent in two days. "We are absolutely not a pyramid scheme," says Chief Executive Officer M. Truman Hunt. "Nobody gets rich in our world by recruiting others and selling them on nothing but the income opportunity."
A little-noticed company that's grown dramatically in recent years, Nu Skin sells more than 200 products. Global revenue is split almost evenly between its nutrition and personal-care lines, according to Hunt. Its biggest seller is the LifePak dietary supplement, a collection of vitamins, antioxidants, and other ingredients packaged in single-serve pouches. In personal care, the star is the AgeLOC Body Spa, a device that uses "pulsating micro-current technology to help reduce signs of aging," according to marketing literature.
The almost 1 million people who pitch Nu Skin products worldwide earn commissions on the products they and their recruits sell to friends, family, and others. In China, which heavily regulates direct sellers, Nu Skin operates its own stores, though independent direct sellers are licensed in some areas.

Nu Skin was founded in 1984 when Brigham Young University graduate Blake Roney and his sister created a line of beauty products without all the fillers they disliked. Rather than taking on debt, the siblings decided to use multilevel marketing to distribute their offerings. Hunt joined Nu Skin as in-house counsel in 1994 and became CEO nine years later. After several years of sales stagnating at about $1 billion annually, he decided in 2006 to reorganize Nu Skin's hodgepodge of businesses around a simple anti-aging theme to capitalize on graying populations and consumers' desire for youth and beauty. Hunt expects revenue this year to surpass $3 billion and is aiming for $10 billion by 2020, a goal he calls "aspirational" yet "reachable."
China's state-run newspaper reported that Nu Skin brainwashes trainees and sells a broader portfolio of products than allowed under its government-approved direct-selling licenses. The company in a statement has said the People's Daily allegations and government inquiry are likely to hurt revenue.
Like its bigger U.S. rival Herbalife, Nu Skin has a business model that's inspired controversy. In 1991, Nightline characterized the company as a pyramid scheme. In 1992, Nu Skin settled with five states that had accused it of deceptive advertising and recruiting, without admitting wrongdoing. It's had two run-ins with the Federal Trade Commission over unsubstantiated product claims. "The company was able to resolve these inquiries to the satisfaction of all regulators," Nu Skin said in an e-mail.
Direct sellers such as Nu Skin "have always been questioned," causing "outsized share price movements," Olivia Tong, an analyst at Bank of America, wrote in a Jan. 15 note to investors. She added that there's no evidence to back up the allegations in the Chinese press. Timothy Ramey, an analyst at D. A. Davidson, says that while the claims are "preposterous," the China probe may prompt the company to change some of its practices. "Will it have an impact on their growth rate in China? Probably," he says. "Will it derail growth? Will the company shrink? I doubt it."
Although the company's problems have made him question the merits of doing business in the world's largest consumer market, Hunt says pulling up stakes is not an option. "As we look at the global marketplace," he says, "you can't not do business in China."
A growing list of multinationals have contended with negative publicity and government investigations in recent months. Last year the government-controlled media accused Starbucks of charging too much, and it reported that Samsung Electronics' smartphones didn't work properly. Both companies have denied the allegations. Several U.S. and European drugmakers have been investigated by Chinese authorities on charges that they bribed doctors.
Shaun Rein, founder of Shanghai-based China Market Research Group, says the climate for foreign companies is the worst he's seen in more than 15 years in China. "The state press has gone after the best of the breed, the most popular and successful foreign brands in China, over the last year."
Before it's here, it's on the Bloomberg Terminal.
LEARN MORE