Lenovo to Buy IBM Server Unit for $2.3 Billion Amid Slump
Alex Barinka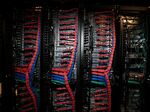 International Business Machines Corp. agreed to sell its low-end server business for $2.3 billion to Lenovo Group Ltd., decreasing its reliance on computer hardware as sales of the products plunge.
The deal price includes about $2 billion of cash, with the rest coming in shares of Beijing-based Lenovo, the two companies said today in a statement today. The transaction now faces regulatory scrutiny, including a likely national-security review that could slow or scuttle the purchase.
IBM reported its seventh straight quarter of declining revenue this week, hurt by a shrinking computer-hardware business. While the company will continue to sell a range of higher-end servers and mainframes, offloading the x86 division removes a low-margin business from its books. Chief Executive Officer Ginni Rometty is focusing more on software and services in a bid to reignite sales and meet an ambitious goal of $20 a share in earnings by next year.
"We were no longer in a position to get the kinds of returns that we wanted," Steve Mills, senior vice president of software and systems at Armonk, New York-based IBM, said in an interview. "We wouldn't do this if we didn't see the obvious taking place in the market."
Share Slide
Today's announcement followed on-again, off-again negotiations between the two sides. Talks had broken down last year over the price of the asset, then valued at $2.5 billion to $4.5 billion. The negotiations resumed in November, according to Lenovo Chief Financial Officer Wong Wai Ming. Lenovo disclosed earlier this week that it was in preliminary discussions about an unnamed acquisition, spurring speculation that the agreement was finally close to being reached.
IBM shares gained less than 1 percent to $182.73 at the close in New York. The hardware slump has taken a toll on the stock over the past year: It slid 2.1 percent in 2013, making IBM the only decliner in the Dow Jones Industrial Average. Trading of Lenovo's shares, meanwhile, was halted today because of the agreement.
As part of the deal, Lenovo will get IBM servers that use x86 processors, an industry-standard technology developed by Intel Corp. The transaction also includes BladeCenter and Flex System blade-style servers -- slim devices that slide into racks -- along with switches that run corporate computer networks. IBM will keep its System z mainframes, Power servers, storage systems and other higher-end hardware.
The x86 division's more than 7,000 employees are expected to move to Lenovo, Mills said. He declined to comment on whether there would be job cuts.
Value Versus Volume
The idea is to stick to products where IBM can add value. The x86 server business has become an industry of large volumes and slim margins -- where one competitor's products are hard to distinguish from another's.
"Value is something that we are very good at selling," Mills said. "Volume is a challenge."
Revenue at IBM's systems and technology business, which sells mainframes, servers and other hardware, declined 26 percent last quarter. The segment's gross margin -- the percentage of sales remaining after taking out production costs -- also is getting squeezed. It fell 3.5 percentage points to 36 percent last year. That compares with an 89 percent margin for its software business.
"They continue to divest their lower-margin hardware business line and this is just continuing down that path," Brian Marshall, an analyst at ISI Group in New York, said in an interview. He has the equivalent of a sell rating on the shares.
PC Expansion
Lenovo comes to the deal from the opposite perspective. As the world's largest maker of personal computers, it already sells millions of relatively low-margin products. The x86 servers run on the same technology as PCs, and the transaction will help Lenovo escalate competition with current rivals such as Hewlett-Packard Co. and Dell Inc.
Today's agreement also builds on Lenovo's 2005 purchase of IBM's PC unit for $1.25 billion, excluding debt. That acquisition gave Lenovo a foothold in the U.S. and put it on the path to ultimately unseating Hewlett-Packard as the top PC maker last year. As part of the legacy of that agreement, Lenovo operates a U.S. base in Morrisville, North Carolina, potentially mitigating concerns that a Chinese company is taking over IBM's server business.
Though the PC industry is suffering its worst-ever decline, Lenovo CEO Yang Yuanqing has maintained growth by adding mobile devices and pushing ThinkPad notebooks into markets across Europe and South America. Along the way, Lenovo's shares have climbed for five straight years. The stock hit a 52-week high in the past week, making Yang's 7.7 percent stake worth $1.06 billion. The 49-year-old has a net worth of $1.3 billion, according to the Bloomberg Billionaires Index.
Biggest Acquisition
Buying the x86 server division -- the biggest acquisition in Lenovo's history -- will give it more insulation against the PC slump. While IBM has struggled with the business, the products have higher margins than laptops and they'll add about $4.6 billion in annual revenue.
"This deal is relatively transformational for Lenovo," said Alberto Moel, an analyst at Sanford C. Bernstein & Co. in Hong Kong. "If Lenovo can control expenses and enjoy some of the higher gross margins in this business, which are above Lenovo's PC margins, then this could be a very good deal for them."
Yang had been seeking to increase Lenovo's share of the global server business to between 5 percent and 10 percent within three years. Today's deal beats that goal by itself. Lenovo will have about 14 percent of the market when the transaction is completed, up from less than 2 percent now, Senior Vice President Peter Hortensius said in an interview.
Corporate Equipment
Lenovo's 2005 deal with IBM vaulted Lenovo from the No. 8 PC maker to third. The company later bought control of Germany's Medion AG and NEC Corp.'s PC division in Japan. The acquisitions helped Lenovo reach the top spot in PC shipments in the second quarter of last year. Lenovo kept that position in the latest quarter, helped by a 6.6 percent increase in shipments, according to research firm Gartner Inc.
The overall PC industry is hurting, though, with shipments shrinking 10 percent in 2013, according to Gartner. Yang wants to build future growth on mobile devices and information technology, supplying equipment and services to corporate and government customers.
"For the past 20 years, PCs were our core business," he said in an interview. "This deal will meet our strategy and give us a good foundation for the enterprise business. We hope we quickly can build it into $10 billion in annual sales, from $4.6 billion now."
Enterprise Services
IBM was the third-largest seller of x86 servers in the third quarter, trailing Hewlett-Packard and Dell, according to IDC. It sold $1.21 billion worth of the machines in the period, accounting for 13 percent of the industry's $9.52 billion total. Lenovo didn't rank among the top 10.
"Due to the strong IBM client base, Lenovo can enter the top-tier enterprise services market," Tony Yang, an analyst at BOCI Research Ltd. in Hong Kong, said in a report. "The service business will be Lenovo's major driver in the future."
Even so, selling servers to Internet companies has become more challenging. Google Inc., Facebook Inc. and other online services are increasingly building their own data centers with custom machines that use Intel technology. That cuts server sellers out of the loop.
Deal Funding
To pay for the purchase, Lenovo can draw on a cash hoard that was worth $2.46 billion as of Sept. 30. The company said in October that it could also finance a large purchase by issuing equity.
Since selling the PC division to Lenovo, IBM has divested other units, including printers and retail-store systems. The recent performance of the server business made it logical to offload it as well, Mills said.
"Our business model is to seek out areas of the IT industry where we could get both growth and profits," he said. "If one of those things falls away, then we obviously move to other approaches."
Still, the Lenovo deal isn't certain to close. The transaction may trigger a U.S. security review -- especially since it involves a Chinese buyer. Proposed transactions by Chinese companies accounted for about 20 percent of reviews in 2012 by the Committee on Foreign Investment in the U.S.
The panel consists of the heads of federal agencies, including the departments of Commerce, Defense, Homeland Security, Justice and State, and the Office of the U.S. Trade Representative. Amid concerns about hacking and cyber espionage by China, the country has become the committee's most highly scrutinized nation, supplanting the U.K.
Submitting Information
Lenovo's Hortensius said the company wouldn't have done the deal if they didn't think it would pass U.S. regulators. To move the process along, IBM will soon submit information to regulators, said Chris Padilla, the company's vice president for governmental programs.
Even if the deal clears those hurdles, Lenovo could still lose some IBM customers in the U.S., though that may be offset by gains in its home market of China, said Stephen Yang, a Hong Kong-based analyst at Sun Hung Kai Financial.
"Lenovo may still face some headwinds selling servers to American institutions and corporates due to worries over counterintelligence," Yang said. "Lenovo would likely focus on growing its China market first, like they've always done with any business."
Before it's here, it's on the Bloomberg Terminal.
LEARN MORE