India's Aam Aadmi Party May Upend Elections
The new Aam Aadmi Party already controls New Delhi
By and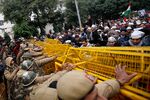 Two parties dominate India's politics: the Congress, which has ruled with its coalition partners for two terms and relies on rural voters; and the Bharatiya Janata Party, the Hindu nationalist group that last ruled the nation in 2004.
National elections will be held in May, and the expectation is that the BJP will fall short of a majority in Parliament but will still win enough seats, giving it the right to form a government with some smaller regional parties. In December the BJP, seen as more probusiness than Congress, won the most seats in four out of five state elections, including Rajasthan, India's largest state. The victory was seen as a stepping stone to national power.
An upstart party may disrupt this scenario. The Aam Aadmi, Hindi for common man, was launched 14 months ago by a group of reformers including Arvind Kejriwal, a former tax inspector. In elections to decide who would run the city-state of New Delhi, the Aam Aadmi tapped into anger over corruption scandals, rising prices, and the poor state of infrastructure to capture 40 percent of Delhi's seats, enough to deny the BJP a majority.
The Aam Aadmi has now partnered with Congress to form a working majority in Delhi's legislature and make Kejriwal chief minister. Besides promising to stamp out corruption, the Aam Aadmi won over Delhi voters on promises of free water and cheap electricity. Kejriwal has already caused a stir and attracted crowds by sleeping on a street in central Delhi to protest his lack of power over the police.
The new party could play an important role in the election. "Previously we never had a choice—it was either Congress or the BJP," says Om Prakash, a sculptor and resident of Rajasthan who just switched from the BJP to the Aad Aadmi. "I like the BJP, but this new party deserves a chance. If it makes an effort to bring down corruption, they will sweep the country." About a quarter of federal and state legislators face criminal charges, according to the Association for Democratic Reforms, which works to improve governance. "India will only progress when we have a leadership interested in helping the people of this country," Prakash says. "Corruption is making our lives intolerable."
The BJP is in direct competition with the Aad Aadmi because both draw support from the urban middle class, says Nilanjan Mukhopadhyay, the author of a book about BJP leader Narendra Modi that was published last year. "The Aam Aadmi could be the difference to deny the BJP victory," he says. "The BJP are clearly rattled. Since the Aam Aadmi won in Delhi, Modi has lost his momentum and appears rudderless."
Modi is seen by BJP supporters and many business executives as a competent manager who delivered prosperity to the state of Gujarat, where he was chief minister. He's also a polarizing figure, accused by human righs groups of doing nothing to halt the 2002 massacre of more than 1,000 Gujarati Muslims by Hindu mobs. He denies wrongdoing. "If Aam Aadmi does well, they are definitely going to hit the BJP vote bank," says R.K. Gupta, the New Delhi-based managing director of Taurus Asset Management.
In a tight election, a small swing of seats could change who forms the next government. Polls show the BJP's coalition gaining more seats than Congress in Parliament in May, with neither winning a majority. The BJP and Congress currently account for 58 percent of seats in Parliament, with 36 regional parties splitting the rest. The Aam Aadmi would win 4 percent of the vote if elections were held now, according to a poll published on Jan. 20 by TV channel CNN-IBN.
An unclear result in May could return India to the 1990s, when unstable coalitions led to three elections in three years. After the 1996 election, the BJP-led government lasted just 13 days. By contrast, India's last three governments have had full five-year terms. The first was a BJP administration, while the following two terms were Congress governments. Congress's Manmohan Singh has served longer than any prime minister since Indira Gandhi left office in 1977.
The Aam Aadmi is struggling to organize a nationwide campaign because it only decided to contest the general election in January after its success in Delhi, says Pankaj Gupta, an election coordinator. "We will end India's two-party system of politics," he says. "People are coming to us because they know only we can offer real change."
BOTTOM LINE -
The bottom line: A new political party pressing for reform may throw into doubt an expected May victory by India's probusiness BJP.
Before it's here, it's on the Bloomberg Terminal.
LEARN MORE