IBM's 'Smarter Planet' Needs a Tutor
By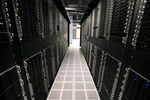 Samuel Palmisano sure knows how to make an exit.
In October 2011 the former IBM chairman said he would turn the reins over to Virginia Rometty. At the time, it looked like Palmisano was doing his successor a solid. (Bloomberg LP, the owner of Bloomberg Businessweek, hired Palmisano as a policy adviser last May.) IBM's share price had been rising and would continue to rise even higher in the months following this leadership announcement. To all appearances, Palmisano had shaped IBM into a steady, profit-making machine, and Rometty just needed to keep executing his plan—shifting toward software and services while expanding the company's presence in growing overseas markets.
Except, well, things haven't exactly worked out so neatly.
On Tuesday, IBM handed in fourth-quarter results, a fresh round of its "hide the revenue" saga. The company's sales declined 5 percent to $27.7 billion in the period and fell 5 percent to $99.8 billion for the full year. The real shocker was the implosion of IBM's hardware business. Data-center equipment revenue fell 26 percent to $4.3 billion. Mainframe sales dropped 37 percent; Unix server sales, 31 percent; Intel-based server sales, 16 percent; storage sales, 13 percent. That's the kind of quadruple-double you never want to see, and IBM has now taken steps to make sure it never happens again. On Thursday the company said it plans to sell off its Intel-based server business to Lenovo for about $2.3 billion.
The wrapper IBM is putting around the Lenovo deal is familiar. It's selling off a low-profit business while maintaining its higher-profit Unix and mainframe hardware. Just as it did when it sold off networking, hard-disk, and PC businesses, IBM is moving away from making physical things and toward selling the software and services that make physical things work. For a long time the company argued that hardware tie-ins would help it sell more software and services. Now, though, IBM clearly thinks it doesn't need the hardware, and some market researchers agree. "While IBM does generate significant revenues from Linux and Windows software sales, there is limited tie-in to hardware (in contrast to UNIX and Mainframe servers) and accordingly we expect limited impact on other parts of IBM's business," Toni Sacconaghi, an analyst at Sanford C. Bernstein, wrote in a research note.
Still, the underlying context behind this deal is more troubling for IBM's long-term business. Its hardware sales have plummeted as the cloud computing business of Amazon.com has soared. By the thousands, customers have shifted to renting much or all of their computing capacity from Amazon—and Google and Microsoft—rather than purchasing equipment. This trend helped push Dell private, and it led Hewlett-Packard and IBM to make much larger investments in the cloud. IBM, for example, acquired the cloud specialist SoftLayer Technologies last July for $2 billion, then pledged to spend more than $1 billion advancing its cloud technology.
Did Palmisano see all this coming? Did Rometty?
It feels in a lot of ways like Palmisano set Rometty up. IBM downplayed the threat of Amazon and the whole "renting a data center with your credit card" movement. Its executives resorted to rhetoric, ignored by customers, about the insecurity of Amazon's approach. It's only within the last few months that IBM has really swung into action. (This is not good form for a company that prides itself on forecasting the future and advises customers on what to anticipate.) With the sale of its server business to Lenovo, IBM looks like it's scrambling to deal with the unexpected. Rometty, who inherited an IBM that recently set an all-time trading high, suddenly has a sagging share price, chaotic financials, and a fixer-upper on her hands.
Before it's here, it's on the Bloomberg Terminal.
LEARN MORE