Maddux, La Russa Opt for Blank Caps on MLB Hall of Fame Plaques
Mason Levinson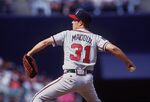 Greg Maddux said it was impossible for him to choose between the Atlanta Braves and the Chicago Cubs, so the pitcher's Hall of Fame plaque won't include a Major League Baseball team logo on its cap.
Manager Tony La Russa, who also will be inducted in the National Baseball Hall of Fame on July 27, also chose to be enshrined without a logo on his cap after leading the Chicago White Sox during eight seasons, the Oakland Athletics for 10 and the St. Louis Cardinals for 16.
Pitcher Tom Glavine's and manager Bobby Cox's plaques will show the Braves logo, manager Joe Torre's will have the New York Yankees logo and Frank Thomas's will display the Chicago White Sox logo, the Hall said yesterday in a news release.
Maddux, 47, played his first seven major league seasons in Chicago, winning one of his four Cy Young Awards as the National League's best pitcher, before moving to Atlanta. He played 11 seasons with the Braves, winning three more Cy Youngs before returning to the Cubs for two-plus seasons. He concluded his career with stints with the Los Angeles Dodgers and San Diego Padres.
"My wife Kathy and I grew up in baseball in Chicago, and then we had just an amazing experience in Atlanta with the Braves," Maddux said in a statement. "It's impossible for me to choose one of those teams for my Hall of Fame plaque, as the fans of both clubs in each of those cities were so wonderful. I can't think of having my Hall of Fame induction without support of both of those fan bases, so, for that reason, the cap on my Hall of Fame plaque will not feature a logo."
Of the 300 people already enshrined in the museum, including players, managers, executives and umpires, 128 have no logo on their plaque, including 86 with no logo on their cap and 42 with no hat at all.
Logo Options
Maddux went 194-88 with the Braves in 363 starts, winning one World Series title. He went 133-112 in Chicago, making 298 starts. For his career, he went 355-227 with a 3.16 earned run average.
"The museum staff works with each inductee by suggesting an appropriate logo option, or no logo at all," Jeff Idelson, its president, said in a statement. "For those whose most compelling contributions clearly took place with one team, a logo makes sense. For those whose careers were built significantly among multiple teams, not having a team logo is equally acceptable."
La Russa credited the White Sox for giving him his start and the Athletics and Cardinals for helping him win championships.
"It's the totality of the success of each of those three teams that led me to Cooperstown, so I am choosing to not feature a logo so that fans of all clubs can celebrate this honor with me," La Russa said in a statement.
Torre's Record
Torre managed for 29 seasons, leading the Yankees to four World Series titles in 1996-2000 and staying with the team until 2007. After beginning his managing career with a five-year stint for the New York Mets, he also led the Braves and Dodgers for three years, and the Cardinals for parts of six seasons.
"When I became the manager of the New York Yankees, it was an opportunity to realize my lifelong dream of winning the World Series," Torre said in a statement. "We were fortunate enough to succeed in our first season in 1996, and in the years that followed we wrote some great new chapters in Yankee history. I am honored that I will wear the Yankee logo on my cap in Cooperstown to represent what our teams achieved together."
Before it's here, it's on the Bloomberg Terminal.
LEARN MORE