Fraport Lesson Ignored, Philippine Project Delays Revival
Karl Lester M. Yap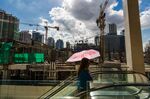 Sidharath Kapur, president of GMR Infrastructure Ltd.'s airport unit, ignored Fraport AG's advice to avoid investing in the Philippines. He may rue that decision.
GMR, India's third-largest builder by market value, discovered earlier this month that the decision to award the project to build and operate an airport terminal in Cebu island was being postponed. The government asked the company to respond to concerns raised by other bidders, adding GMR, which submitted the highest bid, to a growing list of foreign companies that have seen their efforts to invest in the Philippines delayed by policy U-turns and legal roadblocks.
"They have been warning us: don't go to the Philippines," Kapur said in a Jan. 10 interview in Manila, referring to Fraport, GMR's joint-venture partner in the New Delhi airport. "Indian companies would look upon the success of this" in deciding whether to pursue other Philippine ventures, he said.
President Benigno Aquino's quest to overcome decades of depressed investment and rid the nation of its tag as the "Sick Man of Asia" risks being undermined as he faces pressure from consumer groups to put the public's interests above those of business. The latest holdup, a reminder of contract disputes and regulatory flip flops in the past that led companies from Fraport to Suez SA to leave, may threaten the country's ability to compete with peers from Malaysia to Vietnam for investors.
"These sorts of developments, as far as the business environment goes, are of course negative," said Taimur Baig, Singapore-based chief Asia economist at Deutsche Bank AG. "There's always a balance to strike between populist demands and doing what is more investor friendly for the economy."
Steepest Loss
To add to Aquino's challenge, growth last quarter probably slipped to a two-year low after Super Typhoon Haiyan struck in November. Gross domestic product probably rose 6 percent in the three months through December from a 7 percent pace in the previous quarter, according to the median estimate of eight economists in a Bloomberg survey ahead of a Jan. 30 report.
The peso this week slumped to a three-year low, one of Asia's worst-performing currencies in the past month. It was little changed at 45.28 a dollar as of 10:10 a.m. in Manila today. The Philippine Stock Exchange Index has dropped more than 10 percent in the past six months, and fell 1.1 percent at 10:16 a.m., halting a seven-day advance.
While foreign direct investment to the Philippines almost doubled to $2.8 billion in 2012 from 2008, compared with a 25 percent increase in Thailand in the same period, the country drew the least FDI in Southeast Asia, just a fraction of the $19.6 billion in Indonesia in 2012, according to World Bank data. The Philippine central bank forecasts FDI will rise to $2.6 billion this year from $2.1 billion in 2013, using its own estimates.
Indefinite Delay
An estimated $9 billion in public-private partnership projects form the cornerstone of Aquino's growth push. As GMR waits, another aspirant, Ayala Corp., which had the best bid in a rail-ticketing project, is also standing by after a Dec. 23 decision was delayed indefinitely.
In the past seven months, the Court of Appeals affirmed an earlier ruling that FedEx Corp.'s operating permit in the Philippines is unconstitutional, the Supreme Court prohibited Manila Electric Co. from raising tariffs, and the government ordered Manila Water Co. to lower rates after a planned increase.
Manila Water and Maynilad Water Services Inc., which supply water to the capital and nearby provinces, are disputing the order at the International Chamber of Commerce. The Japanese Chamber of Commerce & Industry of the Philippines said it views the government's action with "grave concern."
Strong Message
It "sends a very strong message to the business community about the level of commitment of the Philippine government in upholding the sanctity of contracts," chamber President Takashi Ishigami said in a Sept. 26 letter to Trade Secretary Gregory Domingo. Ishigami is also president of the Philippine unit of Japan's Marubeni Corp., which last year bought a 20 percent stake in Maynilad for $300 million to $400 million.
The Philippines has a history of intervening: In 2003, Paris-based Suez exited its contract to supply water to Manila city after the Gloria Arroyo government withheld rate increases needed to keep pace with debt payments. In 2004, the Court of Appeals overturned an order by the regulator allowing Manila Electric its first rate increase in nine years.
Fraport and a local partner had almost completed building an airport terminal in Manila when the government in 2002 declared the contract invalid and seized the building. Fraport took a 293 million-euro ($401 million) charge, leading to a loss.
"Fraport would never consider a new investment in a jurisdiction where ongoing disputes with the government remain unresolved," spokesman Robert Payne said in an e-mailed response this week.
Business Ease
The Philippines, which won its first investment-grade scores from Moody's Investors Service, Fitch Ratings and Standard and Poor's last year, has risen in the World Economic Forum's global competitiveness index and the International Finance Corp.'s ease of doing business ranking since Aquino took office in 2010.
While Aquino's pledge to curb corruption and spur faster economic growth has drawn companies from Changi Airport Group Singapore Pte. to Spain's Globalvia Inversiones SA to the PPP program, the government has struggled to implement the biggest projects that could yield the most economic benefits.
Of the 51 planned projects in the PPP program that was rolled out in 2010, the Philippines is nearing completion of only one --- to build about 9,300 classrooms in Luzon. A 64.9 billion-peso ($1.4 billion) extension of a rail line to the province of Cavite from Manila has been delayed by wrangling over terms and concerns from some bidders over the risks.
Protecting Investors
"We recognize the importance of protecting investors," said Cosette Canilao, executive director of the PPP Center. "We give weight to the inputs of the private sector while ensuring that the interest of the public is not compromised."
The Philippines is not alone: an unpredictable legal environment in Southeast Asia is the top concern for investors as court decisions and law interpretations can be highly arbitrary, according to a survey last year by Economist Corporate Network. The timelines on Philippine PPP projects is well within the global average, said Edgar Saravia, IFC program manager for advisory services in PPPs in East Asia and Pacific.
Even with the uncertainty, Ayala and GMR say they remain confident. Ayala is preparing to bid for the rail extension project and the 35.4 billion-peso Cavite-Laguna expressway, said Eric Francia, managing director for corporate strategy.
"Ayala remains committed to participate in PPP projects," Francia said in an e-mail. "It is important for the government to continue respecting the Concession Agreements such that even if there are disputes, there is an objective and effective arbitration process to address outstanding issues. Respecting sanctity of contracts is critical for the long-term success of PPP."
Before it's here, it's on the Bloomberg Terminal.
LEARN MORE