Feds Charge One of the Goodfellas in 1978 JFK Cargo Heist
By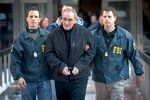 More than 35 years later, federal authorities still have few clues about what happened to the $6 million stolen from a Lufthansa Airlines cargo depot at New York's JFK Airport, a caper made famous by its size and inclusion in the mobster film Goodfellas. Today, however, they do have an indictment of one of the accused perpetrators, 78-year-old Vincent Asaro, an alleged member of the Bonanno crime family.
The December 1978 airport heist netted $5 million in cash and about $1 million in jewelry before filling out the plot in Martin Scorsese's 1990 film, making it one of the largest cash thefts in U.S. history. The notoriety hasn't made the crime less of a mystery, with only one airline employee convicted for his role in the robbery. A half dozen people viewed by authorities as participants or witnesses began turning up dead shortly after the theft.
The indictment does not lay out what role investigators believe Asaro played in the robbery. The convicted Lufthansa cargo employee, Louis Werner, owed gambling debts and his idea of how to steal the cash being repatriated from West Germany circulated from his bookie to associates of James Burke, known as Jimmy the Gent (and played by Robert DeNiro in the movie).
A Lufthansa spokesman called the heist "ancient history" and said the airline had no comment. Most of the money was never recovered. A spokesman for the U.S. Attorney in Brooklyn, Loretta Lynch, said today that authorities had no information on what became of the cash and jewelry.
Burke was the mastermind of the theft, according to Henry Hill, a member of the Lucchese crime family in Brooklyn who participated in the 1986 book Wiseguy, the basis of Goodfellas. Hill, portrayed by Ray Liotta in the film, was arrested in 1980 and agreed to testify against other mob members. He was in the federal Witness Protection Program for several years before dying of heart failure in 2012.
The indictment also charges Asaro with murder in the 1969 killing of Paul Katz, who was suspected of informing to the feds. His remains were found last summer at Burke's house in Queens. Burke, who also is believed to have killed several people involved with the Lufthansa heist, died in prison in 1996.
Beyond murder and the JFK theft, the indictment charges Asaro with extortion, racketeering, arson, and other crimes stretching from 1968 to June 2013. Asaro's son, Jerome Asaro, and three other men—Jack Bonventre, Thomas "Tommy D" Di Fiore, and John "Bazoo" Ragano—are also charged in the indictment for alleged activities as Bonanno family associates. They were expected to be arraigned today in U.S. District Court in Brooklyn.
Before it's here, it's on the Bloomberg Terminal.
LEARN MORE