Davos: Avoiding the Big Lie
by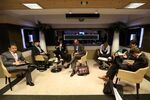 You need to be uncomfortable and apprehensive: True strategy is about placing bets and making hard choices. The objective is not to eliminate risk but to increase the odds of success.
—Roger L. Martin, professor and former dean at the University of Toronto's Rotman School of Management, The Big Lie of Strategic Planning, Harvard Business Review, January-February 2014.
Every year at Davos, there is one article that gains traction. It is too early to hand out ribbons, but my front-runner is Roger Martin's jewel in this month's HBR.
A corporate sponsor in the Valley of Loro Piana extols Davos Man as Thought Leader.
I see few here.
Realists abound after the recent wealth, income, and job destruction. And the realists are in search of a new strategic process for a new-normal recovery. Less GDP; less planning. Davos Man breathes well-tailored success. He also carries an uncomfortable apprehension toward tactical execution of a new and sober set of visions.
Meanwhile, the political class is in search of riskless outcomes combined with a disregard for success and the recursive good of repeated success. Martin nails the goal of maximizing marginal success while monitoring certain risk.
The surprise early mantra is … simplicity. Perhaps the profound "thought" of Davos Profound is rather: A Simple Davos.
Professor Martin suggests that complexity, flanks of planners and MBA-speak is so 2006. He describes a different Davos Man administrating over a new corporation amid changed globalism.
The consultants are adapting to the demand for truth given lesser degrees of freedom. I see few PowerPoints "lying" about, extolling 127-page strategic certitude.
Call this the Back of the Envelope Davos.
Discuss.
Read Roger L. Martin's many articles on strategy. Better yet, read Lafley & Martin, Playing to Win: How Strategy Really Works. Bonus: an appendix on microeconomics.
Before it's here, it's on the Bloomberg Terminal.
LEARN MORE