Colombia Exploits 30-Year Demand in Low-Cost Sale: Andes Credit
Andrea Jaramillo and Veronica Navarro Espinosa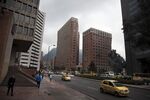 Colombia is paying less to borrow for three decades than developing nations with the same credit rating as it capitalizes on a pickup in economic growth and its trading ties with the U.S.
The Latin American nation agreed to pay an annual interest rate of 5.65 percent in its sale of $2 billion of 30-year bonds on Jan. 21, two weeks after Indonesia sold the same amount of debt due in 2044 to yield 6.85 percent and Romania borrowed $1 billion at a rate of 6.26 percent. All three countries are rated Baa3, the lowest investment grade, by Moody's Investors Service.
Colombia, which joined emerging-markets nations in locking in record amounts of long-term financing this year, is obtaining favorable terms as its economy is forecast to expand at the fastest pace since 2011 while growth in Romania and Indonesia stalls or slows. Colombia also stands to benefit as the expansion in the U.S., which buys 40 percent of Colombia's exports, gathers pace, according to Commerzbank AG.
"Colombia stands out in the radar screen of investors as a solid credit," Simon Quijano-Evans, the head of emerging-market research at Commerzbank AG, said in a telephone interview from London. "If you look at growth, it's on an upward trend. From a timing point of view, Colombia has more to gain because it is more exposed to the U.S., which we see growing stronger."
'Best Way'
Indonesia and Romania sell less than 10 percent of their goods to the U.S.
Colombian Finance Minister Mauricio Cardenas said in a post on his Twitter account that the bond sale was increased from $1.5 billion because the offering "was more successful than we thought."
The deal was Colombia's biggest overseas sale of 30-year debt, according to data compiled by Bloomberg.
"It's the best way to reflect the confidence investors have in Colombia: issue long-term bonds," Cardenas said in a Jan. 21 telephone interview from Madrid. "This is a very favorable environment" before yields rise overseas.
Colombia will keep the dollars from the sale abroad, Cardenas said. The country last year refrained from bringing in dollars from overseas sales to avoid fueling gains in the peso. The peso has plunged 3.6 percent since Jan. 10, the third-worst among major developing-nation currencies tracked by Bloomberg. It dropped 0.4 percent to 1,997.18 per dollar at the close of trading in Bogota.
Fed Taper
Emerging-market issuers have sold $49.8 billion of debt this month, the fastest start to a year since Bloomberg began collecting data in 1999, as speculation grows that the Federal Reserve will further reduce stimulus.
Sales of debt maturing in 30 years or more have also reached a record at $11 billion in the period.
Average yields on developing-nation debt have climbed 0.74 percentage point since May, when the Fed signaled it would reduce its monthly buying of Treasuries and mortgage-backed securities. On Dec. 18, the Fed said it would curtail its purchases by $10 billion this month to $75 billion.
Siobhan Morden, the head of Latin America fixed-income strategy at Jefferies Group LLC, said a glut of 30-year debt from emerging-market issuers may weigh on Colombia's bonds as it starts trading.
The yield on Colombia's 2044 bonds rose 0.07 percentage point in its first two days of trading to 5.72 percent as of 1:58 p.m. in New York, data compiled by Bloomberg show.
"It could be that we are reaching some indigestion here in terms of all the supply going into the market," Morden said in a phone interview from New York.
Slowing Inflation
Mexico, state oil company Petroleos Mexicanos and Coca-Cola Femsa SAB, based in Mexico City, are among issuers that sold 30-year bonds this month.
Colombia's economy will grow 4.5 percent this year after expanding 4 percent in 2013, according to the median estimate of analysts surveyed by Bloomberg.
The nation's ability to keep consumer prices in check also sets it apart from ratings peers, said Michael Roche, an emerging-market strategist at Seaport Group LLC.
Colombian consumer prices rose 1.94 percent last year, below the lower bound of the central bank's target range of 2 percent to 4 percent.
"The perception is that it is a better-run country," Roche said in an interview from New York. "They have inflation under control."
Before it's here, it's on the Bloomberg Terminal.
LEARN MORE