Bubble Wrap: Sealed Air's Still Popping After All These Years
A plastic packaging has enduring appeal and hardly any competitors
By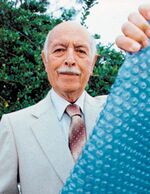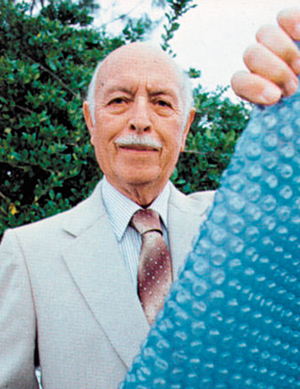 Rohn Shellenberger, the business manager of Sealed Air, knows his company's trademark product has wide appeal. Who doesn't love popping Bubble Wrap? "It doesn't matter if you're 103 or 3 years old," Shellenberger says. "Dogs and cats love it, even parakeets."
On Jan. 27 the world will celebrate the 14th Annual Bubble Wrap Appreciation Day. In advance of the festivities, fans submitted more than 2,000 Bubble Wrap-inspired videos, featuring everything from rhythmic pop-inducing dance routines to a bike designed to unspool and run over a carpet of the bulbous plastic. On the big day, the company will nominate one of three finalists for induction into the Bubble Wrap Hall of Fame. The winner will take home a bale of the stuff.
Engineers Marc Chavannes and Alfred Fielding came up with the precursor to Bubble Wrap in 1957 when they sealed together two shower curtains. The pair (now deceased) initially pitched their product as wallpaper. Then Chavannes had an epiphany: "He was on an airplane coming back from a business trip, and the rolling clouds resembled a Bubble Wrap sheet," Shellenberger says. "As the plane was descending down to Newark Airport, he felt like it was bouncing on the clouds, which gave him an idea."
In 1960, Chavannes and Fielding launched Sealed Air out of a tiny building in Hawthorne, N.J.—not far from the company's present-day headquarters in Elmwood Park. IBM was one of the first major clients. Other customers include Amazon.com, Wal-Mart Stores, and Staples. Publicly traded Sealed Air logged sales of $7.8 billion in 2013.
The company has been able to hang on to its first-mover advantage by preempting rivals. Early on it produced lower-grade, uncoated bubble packaging to win over those "who had previously used cardboard, paper, peanut shells, and pieces of foam," writes Adrian Ryans, a professor emeritus at IMD Business School in Lausanne, Switzerland, and the author of Beating Low Cost Competition. More recent innovations include inflatable packaging and a wrap that's 50 percent recycled plastic.
An Indiana radio station inspired Bubble Wrap Appreciation Day in 2001 after some on-air shenanigans. Now Sealed Air promotes BWAD as an occasion for people around the world to celebrate what Shellenberger calls a "pop culture phenomenon." Businesses that distribute packaging materials mark the day with special deals. "We'll ship out over a thousand packages for orders" on BWAD, compared with 25 on a normal day, says Jason Archambault, president and chief executive officer of Fastpack Packaging in Lee, Fla. Archambault says he was hoping to spur sales of some of his other merchandise in 2011 when he unilaterally declared the first Monday in October Packing Peanut Appreciation Day. "It never really took off."