Beats Music Joins the Crowded Streaming Music Market
Beats Music joins Pandora, Spotify, Songza, Rdio, Google Play … the beat goes on
By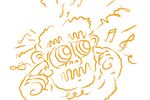 When recording artists as diverse as Sara Bareilles and Daft Punk gather to strut their stuff at the Grammy Awards on Jan. 26, it will be a welcome diversion for an industry that's heading into another period of upheaval. The purchase of downloadable digital music, a format that is dominated by Apple's iTunes and has propped up industry sales for a decade, is winding down. Streaming tunes on mobile devices is all the rage and may soon overtake downloadable music in terms of revenue.
The streaming music business, though, is one crowded jam session. Pandora Media, Spotify, Rdio, Songza, Google Play Music All Access, iTunes Radio, and others all vie for music lovers. The category is full of conflicting formats, pricing strategies, and features, and no dominant business strategy has emerged. Nor is music industry officialdom in love with the technology. Most ad-supported music subscription services are free (recording executives really hate free) and don't generate industry sales. This crowd also pays what artists such as Radiohead front man Thom Yorke and Talking Heads founder David Byrne say are unfairly low royalty fees even as streaming services send out millions of songs over their server networks.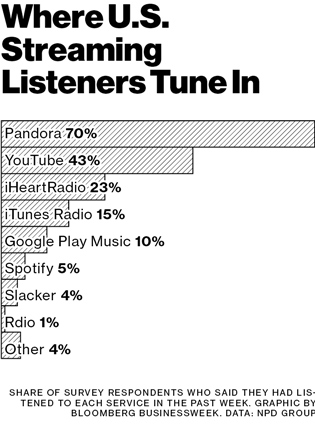 All of which begs the question: Does the world really need another music app? Beats Electronics, the company behind the popular line of high-end headphones and speakers, launched Beats Music on Jan. 21. It's the latest combatant in the music streaming wars and the brainchild of record producer Jimmy Iovine and rapper Dr. Dre. Iovine, chairman of the Universal Music Group label Interscope Geffen A&M, is convinced Beats Music can be a standout service by being a more sophisticated music curator of the vast library of music available online. Then there's the instant name recognition and cross-marketing opportunities that come with the edgy Beats brand. "Beats will draw a lot of attention to music services, creating a halo effect for the industry," says Ted Cohen, managing partner with digital music consultant Tag Strategic.
Available on both Apple iOS and Android devices, Beats Music isn't shy about imitating established players. The service offers on-demand tunes similar to Spotify and the music suggestions and curated playlists available with Pandora and Songza. Like other leading rivals, including Rdio and Google Play, Beats Music boasts an on-demand library of more than 20 million songs.
However, Beats Music's real muse is Netflix, which has disrupted the television and film industries by delivering an unlimited amount of content over the Internet for one fixed price. "Subscription can really work," says Iovine. "It can be great, if not better than owning the music, because you have all the music to choose from." Beats will charge $10 a month for unlimited music access and is rolling out its service with an array of marketing partners and celebrity tie-ins. Mobile carrier AT&T will let customers who sign on with Beats Music pay their subscription fee (or $15 a month for a discounted family plan) with their mobile phone bill. It's also promoting Beats headphones and speakers at its stores. Target is giving away 30-day free trials, and Ellen DeGeneres will demonstrate the music streaming service during her daytime talk show. Beats will advertise its music service during the Super Bowl.
The service's street cred (Nine Inch Nails front man Trent Reznor is chief creative officer) is a big edge, according to Iovine. Beats Music's algorithms track users' musical tastes and suggest personalized playlists created and updated daily with input from former radio DJs, music critics, ex-record executives, and other experts affiliated with the service. Subscribers can also choose from other playlists for nearly every occasion—working out, cooking, or breaking up (cue Adele). "We're music guys," Iovine says. "All those others, those were created by computer programmers and tech guys. We bring a lot of passion and, at the end of the day, I just believe something very unique."
Streaming music services have the wind at their back, thanks to the proliferation of smartphones and tablets connected to cheaper mobile broadband Internet plans. The industry had about 29 million subscribers worldwide at the end of 2013, according to ABI Research. That's forecast to jump to 191 million by 2018. This is streaming music's moment to go mainstream and dislodge downloadable services, says Ken Parks, Spotify's chief content officer. "Commercial realities always take time to catch up to the technology," he says.
Beats Music faces some entrenched rivals starting with Spotify, which expanded into the U.S. from Europe in July 2011 and is the worldwide industry leader, with more than 6 million paying subscribers for its premium ad-free service and 24 million-plus users in 55 countries. Spotify has signed agreements for exclusive streaming access to songs from Red Hot Chili Peppers, Metallica, and Led Zeppelin.
Janus Friis, the billionaire co-founder of Skype, first tried charging $10 a month for his Rdio music service rather than offer an advertising-supported free version, though he experimented with different formats after that. In September, Friis sold a stake in Rdio to Cumulus Media, the radio broadcaster. Later this year, Rdio will offer an ad-supported mobile version with no subscription fee. "We're competing with free," says Anthony Bay, Rdio's chief executive officer, referring to competitors such as Pandora and Songza.
Iovine thinks the Beats Music subscription model is a smart business strategy—and ultimately good for the music industry. Free services pay next to nothing in royalties, set by federal law and based on revenue, and draw 80 percent of listeners, he says. Artists "feel cheated," says Iovine. "These free services are confusing and a mess." As a subscription-based service, Beats will bring in more revenue and pay out more royalties to artists and rights holders than free services under standard industry contracts for streaming music services.
Beats Music plans to let artists use the music service to connect directly with fans, Reznor says. Musicians will be able to control their profile, sell merchandise, and update their followers on upcoming concerts and albums. "I took a long look in the mirror and asked myself whether I was about to do something that would hurt artists," Reznor says. "I came to the conclusion that this will be beneficial and in everyone's long-term interests."
Before it's here, it's on the Bloomberg Terminal.
LEARN MORE