Australia Post Asks If Customers Would Pay A$30 a Year for Mail Delivery
By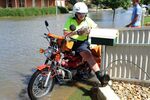 Will Australia be the next country to enact sweeping postal reforms? Australia Post has asked its customers in a survey if they would be willing to pay A$30 ($26.40) for five-day-a-week home delivery. If not, Australia Post wondered, would it be OK if their letter carrier came to their door only three times a week?
A spokesman for the Communications Electrical Plumbers Unions, which represents Australian letter carriers, was swift to condemn the national Post for making such a query. "Following these sort of harebrained ideas only talks down the future of the postal service," said Jim Metcher, the CEPU's postal and telecommunications secretary.
The union response comes as no surprise. Australia Post, after all, might not need as many letter carriers if the public decides it doesn't wish to pay for an extra two days of service.
Australia Post says it has no immediate plans to scale back delivery. It insists it's just trying to determine the needs of its customers. But like the U.S. Postal Service, Australia Post is looking for ways to save money. It lost A$187 million last year on its traditional mail business.
Other countries are already making such changes as their mail volume vanishes because of e-mail, texts, and tweets. In December, Canada Post announced it would end door-to-door letter delivery in cities to stanch its financial losses. In October, New Zealand said it planned to reduce delivery in cities to three days a week. The same month, England privatized the Royal Mail.
The U.S. Postal Service has been entertaining these very ideas since the 1970s. Back then, it was dealing with nine-figure deficits. There have always been special interest groups that have said such reforms are impossible. Now we have a postal service that hasn't been able to make its legally required retiree health-care payments for several years because mail volume has fallen 25 percent since 2008.
Paper mail isn't going to bounce back. And before long, Americans may be asked to decide whether they're willing to pay a little more to keep up six-day-a-week delivery.
Before it's here, it's on the Bloomberg Terminal.
LEARN MORE