Adidas Pulls the Pseudo-Scarcity Trick With Stan Smith Sneakers
by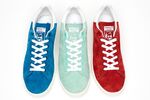 Adidas, slipping a bit in its ongoing game with Nike, is pulling a 50-year-old all-star off the bench. The German sneaker giant has re-released its Stan Smith model, one of its best-selling shoes of all time.
Leaning on a "classic" shoe is a no-brainer. The strategy requires no R&D, space-age materials, performance-measuring electronics or expensive athlete endorsements. Plus, if it's marketed correctly, classic footwear becomes a story and a symbol—something at least a little bit greater than a product itself. Wilson can't offer the same tennis racquet that it made in 1964, but Stan Smiths still basically sell themselves.
What's more, Adidas executives executed their Stan Smith strategy as flawlessly as a Bjorn Borg drop shot. No doubt realizing the shoe's half-century mark was fast approaching, they yanked the model from shelves in 2012. There was certainly no shortage in independent sneaker shops and on websites like eBay— after all, the company has sold 40 million pairs over the years—but the move primed the market with a sense of scarcity.
Then Adidas gave the sneakerheads a little something extra to get excited about. The new kicks come with three different color accents—or "colorways," as the industry jargon goes—and buyers can put an illustration of themselves on the tongues where Mr. Smith's mug has traditionally appeared, an option it's marketing under the term "Stan Yourself."
Even the 50-year peg was a bit of a marketing coup. Adidas did, in fact, start making the tennis shoe in the mid-1960s but it didn't tie them to Smith until 1971, the year the he won the U.S. Open.
So why not wait for a big 50-year release in 2024? For one thing, Adidas could use all the traction it can get to keep pace with Nike's blistering sales of late. Classic sneakers from the 1960s and 1970s are also having a bit of a moment lately. Vans, the skate-sneaker brand owned by VF Corp, has increased sales by almost 20 percent, on average, in the past four quarters. The shoes, known for their checkerboard pattern, have done particularly well in Asia and Europe.
Meanwhile, Nike's Converse and its Chuck Taylor line increased sales by 16 percent in the past six months, more than double the pace of the company's full line of products, including the spaceship sneakers it sells under the Jordan and Lebron lines. If the really old sneaker fits…
Before it's here, it's on the Bloomberg Terminal.
LEARN MORE