A Surprisingly Subdued Start to 2014 for China's Manufacturers
by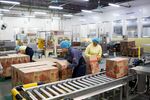 China's manufacturers have started 2014 in low gear. HSBC and Markit Economics announced today that their preliminary Purchasing Managers Index, a monthly manufacturing report for China that surveys private manufacturers, will be 49.6 for the month. A reading above 50 indicates an expansion. In December, the reading was 50.5, but that was down from 50.8 the previous month.
The sub-50 reading caught many China watchers by surprise. Bloomberg Brief economists, for instance, were expecting a reading of 50.3 for January. The decline is "really dramatic," Hu Yifan, chief economist at Haitong International Securities, told Bloomberg Television.
Indeed, with the flash PMI falling for three months in a row, China is in territory last visited during the early days of the Great Recession. This is the first time since 2008 that the index hasn't gone up in December and January. Indeed, in only two years since HSBC's introduction of the index in 2004 has a negative reading in December been followed by another down month in January.
Today's data should help answer the question whether the tightening policy launched in June is slowing the economy, says Zhiwei Zhang, chief China economist in Hong Kong for Nomura. "The weak PMI reading suggests that this negative effect may have finally started to kick in," Zhang writes in a note published today after the release of the PMI data.
With the economy now on track to cool down to annualized growth of 7.1 percent in the second quarter, the surprisingly subdued manufacturing activity indicated by today's numbers is likely to force the government to speed up the timetable for monetary easing, according to Nomura. While the People's Bank of China was likely to cut banks' reserve requirements by 50 basis points in the middle of the year, writes Zhang, "the PMI release today increases the risk of policy easing occurring in March or April.
The January manufacturing data are a bit puzzling, given the brighter economic outlook in the U.S. and other major export markets. "While Chinese policymakers have been tapping the brakes on the domestic side of the economy, stronger growth in advanced economies should be boosting demand for Chinese exports," Bill Adams, senior international economist for PNC Financial Services Group, writes in a report today. "The Chinese economy sometimes marches to the beat of its own drummer, but this month's dip in the HSBC flash China manufacturing PMI looks too far out of step with recent evidence of an improving global business cycle."
In other words, we shouldn't read too much into the disappointing data today. After all, one goal of last year's tightening was to put a damper on growth. "In short?" he writes. "This release calls for caution—but not angst."
Before it's here, it's on the Bloomberg Terminal.
LEARN MORE