A Starring Role at Sundance for Columbia Business School
Amy S. Choi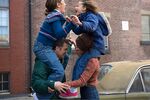 Pursuing an MBA doesn't typically provide the dramatic tension in an independent film, but Columbia Business School takes a star turn in Infinitely Polar Bear, which made its debut at Sundance this week. The autobiographical film by Maya Forbes, which already garnered an award at the Palm Springs International Film Festival, chronicles the struggles of a family whose father has bipolar disorder and whose mother enters Columbia's MBA program to rescue the family's finances.
The Stuarts—mom Maggie (Zoë Saldana), dad Cam (Mark Ruffalo), and kids Faith and Amelia—endures economic hardship, high jinks, emotional roller coasters, and tender moments as Maggie heads off to Columbia while her family stays behind in New England.
"My mother was a real role model for me, ultimately," Forbes told the Los Angeles Times. "She was really stuck, and she was not going to have it. She wanted us to go to great schools, and she just wanted a better life."
She succeeded. Forbes followed her mother, Peggy, into the Ivy League, attending Harvard University as an undergrad. Writing for the Lampoon gave Forbes the gumption to go to Hollywood, which led to a writing gig on the Larry Sanders Show, she told the Hollywood Reporter. Many years, Emmy nominations, a friendship with Mark Ruffalo, and a chance meeting with JJ Abrams later, Infinitely Polar Bear is being lauded as one of the darlings of Sundance.
Before it's here, it's on the Bloomberg Terminal.
LEARN MORE