Ukraine Bonds Slump as Stocks Retreat After Deadly Kiev Clashes
Ksenia Galouchko and Maria Levitov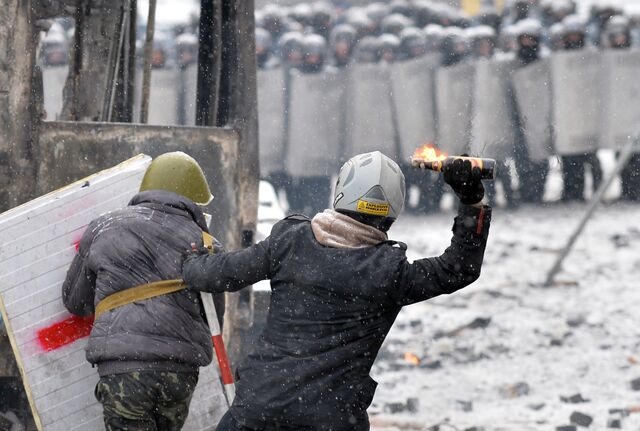 Yields on Ukraine's bonds due in June climbed the most in almost two months and stocks fell after two dead bodies were found following a night of street violence, the first fatalities since protests began in November.
Yields on the 2014 government debt increased 2.55 percentage points, the biggest advance since Dec. 2 on a closing basis, to 9.29 percent as of 5:23 p.m. in Kiev, according to data compiled by Bloomberg. The Ukrainian Equities Index slid 2.6 percent to the lowest close since Nov. 4.
Ukrainian bond yields had retreated 8.45 percentage points through yesterday since Russia committed on Dec. 17 to investing $15 billion to help the eastern European nation avert a default. President Viktor Yanukovych is struggling to stem rallies against his November snub of a European Union cooperation deal, with police crackdowns fanning people's anger. Police are investigating two deaths, both of which occurred from gunshot wounds, the prosecutors said in a website statement.
"Investors will reduce positions across the board, as they had already rallied so much in the aftermath of the Russian bail bond deal," Tim Ash, chief economist at Standard Bank Group Ltd in London, said by e-mail. "Ukraine is now only for the very brave-hearted investor. I don't think it is possible to read events in Ukraine at the moment, so investors are just taking a punt on their investments."
Russian Aid
Five-year credit default swaps, contracts insuring Ukrainian debt against default, rose 82 basis points to 835.59, the highest level since Dec. 16, according to data provider CMA. That's the third highest in the world after Argentina and Venezuela, according to data compiled by Bloomberg.
Ukraine's 2023 bonds yielded 8.96 percent today, up 35 basis points, while the hryvnia, which is managed by the central bank, strengthened 0.3 percent to 8.3790 a dollar, its first advance in 11 days. The nation's shares are the second-cheapest in the world, trading at 0.4 times net assets, or book value, according to data compiled by Bloomberg on 72 benchmark indexes.
The clashes "could weaken confidence and push up demand for foreign currency," Fitch Ratings said in a statement today. A weakening of Yanukovych's position "might affect Russia's willingness to continue disbursements. If Russian lending were interrupted, the hryvnia, which has fallen on this week's violence, could come under additional pressure," it said.
Ukraine, which faces $14 billion of debt payments through next year according to data compiled by Bloomberg, will sell $2 billion of eurobonds to Russia this month at a 5 percent yield, according to First Deputy Finance Minister Anatoliy Myarkovsky. The nation plans to tap international markets by the end of the first quarter, he said in Kiev today.
Protests Intensify
The latest clashes erupted after pro-Yanukovych lawmakers passed legislation Jan. 16 to restrict protesters' activities. The president signed the bill the next day, ignoring international calls to veto it, including from the EU. More than 1,400 protesters and 100 police have reported injuries. The opposition called on people to gather at central Kiev's Independence Square as of 6 p.m. today.
The government lifted limits on the use of water cannons against protesters and allowed the police to use smoke, gas and sound grenades, according to a statement on the government website. The decree also permitted the police to cap traffic and public access.
"What the market is seeing is protests have been gathering pace, intensifying and investors are simply scared of political instability," Regis Chatellier, a London-based director of emerging-markets credit strategy at Societe Generale SA, said by phone. "The fact that people are out in the streets despite the weather really shows the determination of the protesters."
Temperatures in Kiev were as low as -9 degrees Celsius today (14 degrees Fahrenheit), data compiled by Bloomberg show.
Before it's here, it's on the Bloomberg Terminal.
LEARN MORE