The Struggling Supplement Maker Behind Ex-Virginia Governor's Indictment
By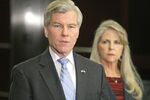 Rides on a private jet, loans to prop up a real-estate venture, a Rolex watch, and a loaner Ferrari—these are just some of the favors the former first couple of Virginia got from the chief executive of a dietary supplement company struggling for legitimacy, according to prosecutors.
An indictment (pdf) in federal district court in Virginia disclosed last night alleges that former Republican Governor Bob McDonnell and his wife Maureen got sweetheart loans, gifts, and other favors from the chief executive of Star Scientific, a Nasdaq-listed supplement company led until last month by Jonnie R. Williams, Sr.
What did Williams get in exchange? McDonnell's help pushing Star Scientific's product, called Anatabloc, on state health officials and research scientists at Virginia's state universities, according to the indictment. It's a dietary supplement derived from tobacco and sold as "anti-inflammatory support" in 300-count bottles for $99.99, as well as a facial cleanser. Because Anatabloc is a supplement, not a medicine approved by the Food and Drug Administration, Star Scientific is barred from making claims that it can treat or prevent medical conditions.
McDonnell released a statement Tuesday in which he denied breaking any laws, and Star Scientific said in a statement that it would cooperate with authorities.
The company was warned by the FDA in December over claims that the supplement could help treat concussions. Star Scientific alerted investors last week that it may be forced to stop marketing the products. The company has not reported a profitable year since 2001, according to data compiled by Bloomberg.
It's unclear how McDonnell first got connected to Williams. The indictment says the governor began using Williams's private jet during the 2009 campaign, but the two remained "merely professional acquaintances" before McDonnell won the election. In October 2010, Williams loaned McDonnell the jet to go to a political event in Sacramento and on the way back to Richmond gave him the pitch for Anatabloc, according to prosecutors:
"During the return flights, JW [Williams' initials] informed Robert McDonnell of the significant potential health benefits of anatabine and the need for scientific studies of these potential health benefits. JW told Robert McDonnell that Star Scientific needed the assistance of the Virginia government, and Robert McDonnell told JW that he would put JW in contact with the Virginia Secretary of Health."
McDonnell's office soon asked the state health secretary to visit a Florida research center tied to Star Scientific, and McDonnell personally pitched its tobacco-replacement product to doctors at the Jefferson Hotel in Richmond, the indictment says. Williams even allegedly "discussed the idea of having Virginia government employees use Anatabloc as a control group for research studies" in August 2011.
That month, the first couple hosted a launch event for Anatabloc at the governor's mansion. Samples of the supplement were on the tables, and research scientists from state universities, including Virginia Commonwealth University and the University of Virginia, were invited so the company could try to persuade them to conduct clinical trials on the supplement, according to the indictment.
In February 2012, Maureen McDonnell encouraged the supplement maker to invite dozens of executives, researchers, and doctors to a reception for state health-care leaders at the governor's mansion, prosecutors say. Weeks later, in a meeting about reducing costs in the state employee health plan, the governor "pulled some Anatabloc out of his pocket and told the Secretary of Administration and one of her staff members that Anatabloc had beneficial health effects, that he personally took Anatabloc, and that it was working well for him," the indictment says. He allegedly suggested the secretary meet with the company.
State health officials, asked by the governor to look into the dietary supplement, apparently resisted: "The Virginia Secretary of Health was skeptical regarding [Williams's] claims because Star Scientific's products had not been scientifically proven to be effective," the court document says. Another adviser who met with Williams and Maureen McDonnell wrote in an e-mail that "it is necessary for us to make policy recommendations and decisions off of sound data" and was "grateful that [Williams was] making strides to validate the incredible anecdotes and stories that result from your work."
Star provided some funding to state university researchers as "planning grants" to establish comprehensive studies. In an e-mail to a policy adviser, Maureen McDonnell asked why university researchers hadn't acted: "Gov wants to know why nothing has developed w studies after [JW] gave $200,000," the indictment quotes her as writing.
In a statement released Tuesday, the former governor said he "never promised—and Mr. Williams and his company never received—any government benefit of any kind from me or my administration. Star Scientific released a statement from its lawyer calling it a 'sad day when criminal charges are brought against any elected official' and pledging continued cooperation with authorities."
If the McDonnells are convicted, they will have to forfeit $140,000 and a long list of items allegedly acquired through their ties to Williams. Along with Louis Vuitton purses, Oscar de la Renta dresses, and a silver Rolex engraved with "71st Governor of Virginia," they would have to return 30 boxes of Anatabloc.
Before it's here, it's on the Bloomberg Terminal.
LEARN MORE