Federer Beats Murray to Reach Australian Semifinal Against Nadal
Rob Gloster and Christopher Elser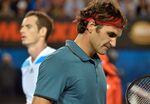 Roger Federer defeated Britain's Andy Murray at tennis's Australian Open yesterday to set up a semifinal with top seed Rafael Nadal, who needed four grueling sets to overcome Bulgaria's Grigor Dimitrov.
Federer, the record 17-time Grand Slam men's champion, beat the fourth seed 6-3, 6-4, 6-7 (6-8), 6-3 in Melbourne. Federer, who lost to Murray in last year's semifinals, is seeking a record fifth Australian title in the professional era, which began in 1968.
"I'm much higher than I was last year, which is great," No. 6 seed Federer said in a televised court-side interview. "I have confidence in my movement. It's so important in the game now. Last year, it didn't feel quite right."
In the women's draw, two-time defending champion Victoria Azarenka lost, meaning none of the top three seeds remain. Today, Canada's Eugenie Bouchard, the 30th seed, takes on China's Li Na, who's seeded fourth, in the first semifinal. Agnieszka Radwanska, who beat Azarenka, plays Dominika Cibulkova of Slovakia.
Tomas Berdych of the Czech Republic and Stanislas Wawrinka of Switzerland, who upset defending champion Novak Djokovic, meet in the first men's semifinal today. Federer will take on Nadal tomorrow.
Nadal, seeking his second title at the season's opening Grand Slam tournament, won 3-6, 7-6 (7-3), 7-6 (9-7), 6-2 against No. 22 Dimitrov. Nadal's service game suffered as he struggled with a blister on his left hand. The Spaniard, who has 13 Grand Slam titles, fought off three set points in the third-set tiebreaker against Dimitrov, 22, who is considered one of tennis's rising stars.
Lucky
"I was so lucky," Nadal told the crowd after the three-hour, 37-minute match. "I hope you enjoyed it, but I suffered a lot."
Dimitrov had 16 aces and 54 winners, compared with three aces and 42 winners for Nadal. The Bulgarian also had 61 unforced errors, 14 more than his opponent.
"I'm a bit shattered," Dimitrov said in a news conference. "Of course I shed a few tears, but it should hurt. It should hurt. And it does hurt."
Nadal had seven double faults and his average first serve of 104 miles per hour (168 kilometers per hour) was 13 mph slower than that of Dimitrov.
'Served Bad'
"I served bad," Nadal said in a news conference. "I was able to win a match against a very difficult opponent, so that has much more value than when everything is great."
Nadal has beaten Federer 22 of the 32 times they've played. The 32-year-old Swiss player hasn't won the title in Melbourne since 2010, and hasn't won a Grand Slam event since Wimbledon in 2012, when he defeated Murray in the final.
Yesterday's was Murray's second tournament after back surgery last year. While the 26-year-old grimaced after several shots late in the match, he said his back was fine.
"I would have done it a bit differently if I was ever to have surgery again, possibly," Murray told reporters. "But it's the first time I ever went through something like that. I thought I did a good job getting myself in good shape to be competitive at this level and I wasn't too far away in the end."
Women's Losses
Azarenka, the second seed in Melbourne, fell in three sets yesterday to Radwanska, the fifth seed.
Azarenka's 6-1, 5-7, 6-0 loss in exactly two hours means the top three women's seeds are all out. Top-seeded Serena Williams of the U.S. and No. 3 Maria Sharapova of Russia were fourth-round losers.
"She was getting to every ball," Azarenka said in a news conference. "She guessed so many of my shots. I was just a little bit too stubborn, doing the same thing, missing the same shots."
The 24-year-old Belarusian made 47 unforced errors to 15 by Radwanska, a 24-year-old from Poland who was a 2012 Wimbledon finalist and finally won an Australian Open quarterfinal on her fifth try.
"I'm just very happy because I really was playing great tennis," Radwanska told reporters. "I'm so happy and pleased, especially that I beat one of the best players in the world."
Azarenka, who came into the contest with an 18-match winning streak in Melbourne and was the only player to reach the quarterfinals without dropping a set, was seeking to become the first woman to win three straight Australian Open singles titles since Martina Hingis in 1997-99.
Cibulkova Wins
Radwanska's next opponent will be Cibulkova, who eased into her first Australian semifinal by defeating Simona Halep in straight sets while dropping three games.
Cibulkova, 24, won 6-3, 6-0 against No. 11 Halep of Romania in exactly one hour. It is the second career Grand Slam semifinal for Cibulkova, who also reached the final four at the 2009 French Open.
Cibulkova, who at 5-foot-3 (1.61 meters) said she's probably the smallest player on the women's tour, overcame a three-inch height disadvantage against Halep.
"I would say I'm pretty quick on my feet," Cibulkova said in a news conference. "I do a lot of good footwork."
Halep, 22, who was playing in her first Grand Slam quarterfinal, said she was overcome by nerves.
"I couldn't play," she told reporters. "I had emotions, big emotions, and I couldn't manage this. Before the match I was very nervous and I didn't feel the ball at all. I couldn't move my body and I couldn't play."
Before it's here, it's on the Bloomberg Terminal.
LEARN MORE