SAC, Mathew Martoma, and the Art of Cross-Examination
By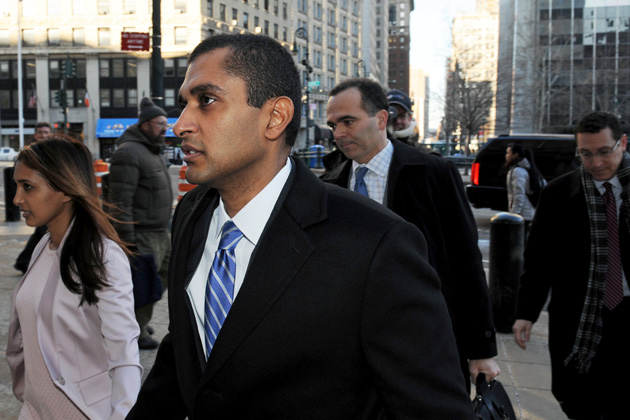 The moment of maximum drama in a criminal trial often comes when the prosecution finishes questioning a key witness and turns him or her over to the defense, whose goal is to undermine that witness's testimony by any means necessary. But what does the defense do when the jury is sympathetic to the witness in question?
In the trial of former SAC Capital portfolio manager Mathew Martoma, that moment of reckoning may be here, as the snow gods have permitted the federal courthouse in lower Manhattan to open on Wednesday.
Martoma is on trial for insider trading in two drug stocks, Elan and Wyeth, in what the government has said is the largest insider trading case of all time, with $275 million in alleged profits and avoided losses. The main witness testifying against Martoma is Dr. Sidney Gilman, an accomplished neurologist and Alzheimer's researcher, who spent a long and decorated career trying to find a cure for the disease that had ravaged so many of his patients. Gilman is 81 and white-haired—the word "grandfatherly" comes to mind—and his story underlies the challenges Martoma's lawyers face.
Gilman has emerged as something of a tragic figure in the Martoma case. Over the course of many months between 2006 and 2008, the government alleges, Martoma befriended Gilman, whom he'd first made contact with through the expert-networking firm Gerson Lehrman Group, which connects industry experts with hedge fund investors. Gilman began leaking confidential information about an Alzheimer's drug trial he was involved in to Martoma, according to the government's case. As he was doing this, Gilman testified, he was vaguely aware that Martoma was using the information to make stock trades, but he didn't pay much attention to it.
Gilman was first approached about the alleged crime by the FBI in September 2011, Gilman said. At first he lied and denied having done anything wrong. It was only after multiple meetings with government attorneys, and Martoma's arrest in November 2012, that Gilman says he finally came clean. He ultimately signed a nonprosecution agreement and agreed to cooperate with the government.
"I was intensely ashamed of what I'd done—I'd betrayed my colleagues, myself, my university," he said on the stand. "I had an inexplicable desire for it to go away. It's hard to explain." Since he pled guilty, he's resigned from the University of Michigan, his academic home for decades—it was either that or be fired, Gilman said. He gave up two federal research grants and most of his medical practice. A lifetime of work has crumbled around him.
Although Gilman appears frail, his mind comes across as fairly sharp. He occasionally has trouble hearing (he has hearing aids) and has suffered a few brain-freezes under questioning.
The challenge for Martoma's lead counsel, Richard Strassberg of Goodwin Proctor, will be to make Gilman seem unreliable, self-interested, and even dishonest, which may be trickier than navigating lower Manhattan in a snowstorm.
Before it's here, it's on the Bloomberg Terminal.
LEARN MORE