JPMorgan in Court as Berlin Transport Disputes Deal Costs
Kit Chellel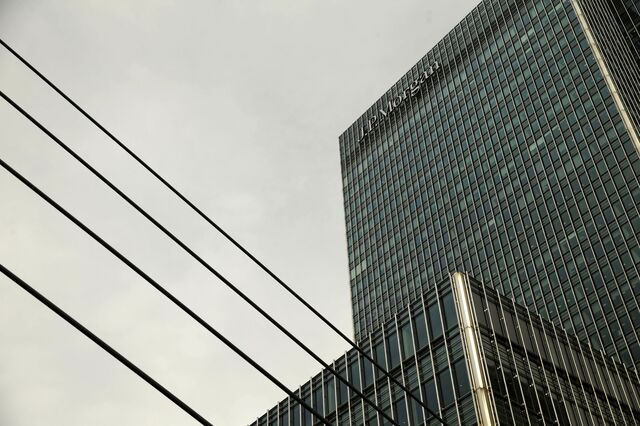 JPMorgan Chase & Co. employees discussed why they shouldn't reveal to their client, Berlin's transport authority, what the bank stood to gain from a complex derivative deal that's now at the center of a U.K. court case.
Phone transcripts cited by Berliner Verkehrsbetriebe in a London trial show JPMorgan staff referring to Matthias Meier, an employee in the German company's finance department, before the 2007 transaction.
"We don't want to show to Meier that we are making so much money on it right?" Johannes Banner, a JPMorgan salesman, asked a colleague in 2006, according to BVG's court documents. Another banker called Meier a "pain in the a--e" and said they should "sting" him.
JPMorgan sued the firm, which operates Berlin's trains and buses, in 2008 for about $200 million it says it's owed from the credit-default swap transaction. The lender argues BVG was only a victim of bad luck and the deal turned costly because of unprecedented events in financial markets during 2008. The case went to trial in London this week.
Tim Lord, a lawyer for BVG, told the court yesterday the transport authority had never properly understood the so-called "synthetic, single-tranche collateralized debt obligation" and was misled by JPMorgan and its lawyers at Clifford Chance LLP.
The bank "identified a target market of susceptible public bodies" for the product, Lord said. Meier "fell for the very marketing ploy that they devised for him."
Patrick Burton, a spokesman in London for the New York-based bank, said "JPMorgan stands by the transaction agreed with BVG, which we believe they should honor, and we consider their allegations to be wholly baseless."
Burton said Banner wasn't available to comment.
'A Frustration'
In another 2006 conversation cited in BVG's court documents, Banner and Kieran O'Connor, a JPMorgan employee at the time, discussed inviting another bank to take part in the deal.
"We'll take that out of Meier's share," O'Connor said. "You know that we sting, sting him more because he has been a pain in the a--e."
O'Connor, who no longer works at JPMorgan, said in an e-mail yesterday that the passages "appear to reflect a frustration at being asked to implement redundant deal features, and the possible cost of that, the internal politics as to which groups (or regional offices) of JPMorgan felt they owned a product or client, and the unlikelihood of finding another bank willing to interpose itself at a low price cost."
O'Connor didn't propose the deal for approval, he said in the e-mail.
'Not Very Polite'
"I recall it as a conservative offering which fell victim to unprecedented market dislocations, like many others," he said. "As to my language? When I stub my toe or am working under pressure, I can't deny that a redundant word or two can creep into my sentences."
Judge Julian Flaux, said earlier this week the language used by O'Connor wasn't necessarily evidence of impropriety. "He may not have been a very polite man," Flaux said. "That's not the same as acting fraudulently."
BVG entered into the deal, designed by O'Connor, to protect against default risk from another arrangement, the company said in its court documents. JPMorgan told the court that in 2007 there was only a 0.19 percent chance of a default in the companies linked to the deal.
"Rather than simply accepting that it had been unfortunate," BVG "cast around for someone other than itself to blame," the bank's lawyer, Laurence Rabinowitz, said earlier this week.
The case is: JPMorgan Chase Bank & Anr v Berliner Verkehrsbetriebe, case no. 08-1052, High Court of Justice, Queen's Bench Division, Commercial Court.
Before it's here, it's on the Bloomberg Terminal.
LEARN MORE