Why Wal-Mart Just Gave a Raise to Tomato Pickers
By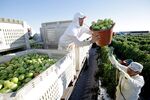 As Wal-Mart faces vocal demands for better pay from some employees and labor activists, the massive retailer has volunteered to give a tiny raise to those who pick its tomatoes.
The company last week agreet to join a Florida-based worker-rights program in which it will pay an additional penny per pound for tomatoes to support higher wages for tomato pickers. The "Fair Food Program," which has been lauded by the Obama administration and the United Nations, also calls for ongoing farm audits and formal procedures to address complaints of abuse in the fields. If a farm slips and loses its "participating grower" designation, it can no longer sell to Walmart.
A number of food giants are already on board with the Fair Food initiative, including McDonald's, Chipotle, Trader Joe's, and Yum Brands. Walmart, however, went a step further, saying it would strike longer-term purchasing agreements with farmers who best reflect the "fair food" principles and pledge to spread those ideals into other crops in other states.
A penny per pound of produce isn't much of a commitment, even given the huge pile of tomatoes that Walmart sells. The social capital it will harvest from the announcement—and the ensuing sales that brings—is probably far greater. Plus, it helps Walmart keep pace on the socially responsible supermarket front with the likes of Whole Foods, which is already participating.
It's hard to overstate what the announcement means for thousands of migrant workers. Not only have these people been treated poorly; many were literally enslaved until recently. From that perspective, a penny a pound seems like a bargain for all parties involved.
Before it's here, it's on the Bloomberg Terminal.
LEARN MORE