Texas Instruments Predicts Profit That May Trail Estimates
Ian King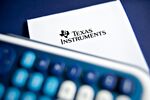 Texas Instruments Inc., the largest analog-chip maker, predicted profit that may fall short of analysts' estimates as the company cuts 1,100 jobs and departs the mobile-phone chip business.
First-quarter net income will be 36 cents to 44 cents a share, including restructuring costs, on sales of $2.83 billion to $3.07 billion, the Dallas-based company said yesterday in a statement. Analysts on average were projecting earnings of 44 cents and revenue of $2.96 billion, according to data compiled by Bloomberg.
Texas Instruments is reducing costs in areas of lackluster growth and eliminating positions in Japan and its embedded processing unit. The company is coming off three straight years of declining sales caused by its withdrawal from the mobile-phone modem business and is implementing changes to reignite growth.
"I'm more optimistic than I have been at the start of any of the last four years," Chief Financial Officer Kevin March said in an interview. "I'm not giddy or anything, but everything's shaping up to be a better start to 2014."
Texas Instruments fell 0.9 percent to the equivalent of $43.42 in German trading at 10:29 a.m. local time. The shares were little changed in extended U.S. trading after gaining less than 1 percent to $43.85 at yesterday's close in New York. They climbed 42 percent in 2013.
The job cuts, amounting to more than 3 percent of the company's workforce, resulted in a charge of about $80 million, including $49 million in the fourth quarter, Texas Instruments said. The move will lead to annual savings of $130 million by the end of 2014.
Sales Increase
Net income in the fourth quarter rose 94 percent to $511 million, or 46 cents a share, from $264 million, or 23 cents, in the same period a year earlier, when the company recorded costs tied to an acquisition and job cuts. Sales rose 1.6 percent to $3.03 billion. Analysts had estimated a profit of 46 cents a share on $2.99 billion of sales.
Texas Instruments' chips are used in almost every electronic device, from parts for satellites and rockets to home appliances, making the company's earnings an indicator for demand across much of the economy.
The global economy will expand 3.7 percent this year, the International Monetary Fund said yesterday. U.S. gross domestic product will increase 2.8 percent, while analysts on average expect sales at Texas Instruments to rise 3.4 percent this year.
"Investors are fine with at GDP growth," said Doug Freedman, an analyst at RBC Capital Markets in San Francisco.
Chief Executive Officer Rich Templeton is completing a shift to analog chips, which convert physical actions like pressing a button on a television into electronic signals. The company has ceded the market for modems in mobile phones to Qualcomm Inc.
While the move has hurt sales, the company's diversification has shielded it from a slump in any single area, such as personal computers.
Before it's here, it's on the Bloomberg Terminal.
LEARN MORE