Orban Plans Make Forint's Best Forecaster See Slide: Currencies
Andras Gergely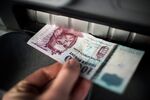 For the best forint forecaster, Prime Minister Viktor Orban's push to stamp out foreign-currency mortgages is another reason to sell amid record-low interest rates and a government drive to boost local ownership of banks.
Hungary's forint, already this year's worst performer in east Europe with a 1.8 percent decline versus the euro, will weaken a further 2.5 percent by year-end, according to Citigroup Inc., the most accurate forecaster over the past four quarters, according to Bloomberg Rankings. The median estimate of 20 strategists' forecasts compiled by Bloomberg is for the Hungarian currency to climb about 2 percent by the end of 2014.
A combination of 18 interest-rate cuts in as many months and Orban's clashes with courts over the validity of foreign-currency mortgages are weakening the forint. Orban, facing an election in April, ratcheted up pressure on foreign lenders, saying that a reduction in their ownership would restore "health" to the banking industry.
"Hungary-specific policy risks may cause swings in the currency," Eszter Gargyan, a Budapest-based economist at Citigroup, the world's second-biggest currency trader, said by phone on Jan. 13. "We're expecting a somewhat weakening path for the forint because of the further narrowing of Hungary's interest-rate premium."
Eastern Europe
The forint is eastern Europe's worst performer versus the euro so far this year, and its decline compares with a 0.9 percent slide for the Czech koruna and 0.2 percent drop for Poland's zloty, data compiled by Bloomberg show. Hungary's currency fell to a five-week low of 303.31 per euro today, and was at 302.77 as of 2:18 p.m. in New York.
Citigroup predicts the forint will tumble to 310 per euro by year-end, which would leave it the weakest since January 2012. The U.S. lender was the most accurate forecaster for the currency pair in the four quarters ending Dec. 31, followed by UniCredit SpA and Intesa Sanpaolo SpA, according to Bloomberg.
Magyar Nemzeti Bank, Hungary's central bank, cut its main rate by 0.15 percentage point to a record 2.85 percent today, exceeding the prediction of analysts surveyed by Bloomberg for a 0.1 percentage-point reduction.
Policy makers appointed by Orban's party have reduced the rate from 7 percent in August 2012 as cuts in utility prices, driven by a government seeking to boost its popularity before elections due on April 6, pushed inflation below the target of 3 percent.
Election Strategy
"Government loyalists" in the central bank will extend monetary easing because they have their "eyes on parliamentary elections," Neil Shearing and William Jackson, analysts at London-based research firm Capital Economics Ltd., wrote in a Jan. 13 report.
The central bank's press office didn't respond to a phone call and e-mail requesting comment.
Orban said in March that overseas investors should own less than half of Hungary's banking industry and that he wants the country to escape the "captivity" of foreign-currency debt. Foreigners own 58 percent of the country's bank assets, according to central bank data.
The government announced in July it would "phase out" foreign-currency mortgages, and Orban called on the nation's top court in November to take the "side of the people" rather than banks when it comes to judging the validity of their contracts.
Further Declines
Goldman Sachs Group Inc. expects the forint to weaken to 305 per euro in three months and 310 in a year as the government implements the policy changes and the central bank lowers rates to 2.5 percent in the first half, Magdalena Polan, a London-based economist, said in a Jan. 16 note.
"A comprehensive solution to the FX debt problems would lead us to expect an even weaker forint," Polan said. Policy makers are demonstrating an "increased preference for forint weakness," she wrote.
Hungarians held 1.8 trillion forint ($6 billion) of foreign-currency mortgages on Sept. 30 and an additional 1.7 trillion forint in foreign-currency home-equity loans, which can be used for purchases other than housing. One in five was non-performing, according to the central bank.
Four foreign lenders may leave Hungary within 18 months, central bank President Gyorgy Matolcsy said in December in an interview with Hungary's HirTV, without naming them.
Current Account
Hungary's relatively strong economy, helped by its exports, may temper the forint's declines, according to firms including Barclays Plc and Aberdeen Asset Management Plc.
Gross domestic product probably expanded 0.75 percent last year, after shrinking in 2012, compared with average growth of 0.17 percent across Europe, economists surveyed by Bloomberg estimate. Official reports last month showed a resurgent car-export industry helped push the current-account surplus to a record 1.1 billion euros ($1.5 billion) in the third quarter.
"The current-account surplus" helps "provide support," Viktor Szabo, a money manager in London at Aberdeen Asset Management Plc who helps oversee $10 billion, said in a Jan. 13 interview via e-mail. "But the tail-risk is for a weakening, and rate cuts don't help."
Hungary's borrowing costs may reach 2 percent in a year, lower than the 2.5 percent base rate in Poland, Lars Christensen, a Copenhagen-based analyst at Danske Bank A/S, wrote in a client note before today's decision.
Lower rates have helped reduce the spread on Hungary's benchmark three-year note over German debt to 3.3 percentage points this month, the narrowest since 2007, from 4.88 percentage points in August and a record 13 percentage points in 2009, data compiled by Bloomberg show.
That threatens to drive investors to other countries as a reduction in the Federal Reserve's monetary-stimulus program pushes up yields elsewhere. The U.S. central bank will start cutting the monthly bond purchases used to pump money into the economy from $85 billion starting this month.
Barclays is "bearish" on the forint as Hungary's monetary easing leaves it "vulnerable" to rising yields, said Koon Chow, an analyst in London, on Jan. 16.
Before it's here, it's on the Bloomberg Terminal.
LEARN MORE