Old-Fangled ATMs Get Reprieve on Windows Deadline
By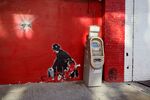 In all likelihood, your local ATM—that bovine pile of dated electronics that takes several long seconds to process even the most basic transaction—is running Windows XP. Versions of the 12-year-old operating system power roughly 95 percent of the world's ATMs, including the 420,000 cash machines in the United States, and virtually all of them have been facing an April deadline that threatens their ability to keep out hackers and other thieves.
April 8 is the date Microsoft has been planning to cut off support for the OS, meaning that ATMs would no longer receive updates and security patches. This has banks, credit unions, and other ATM operators scrambling to get their networks onto Windows 7 in order to keep compliant with industry security standards. Since the newer software requires more powerful hardware, this has been a laborious, expensive process that involves replacing some ATMs entirely and updating the components in thousands of others one by one.
Now Microsoft has offered the creaky machines a bit of a reprieve, announcing that it will continue updating its malware protection services through July 14, 2015. ATMs that didn't upgrade by the April deadline were always going to continue to work and dispense cash; their increased vulnerability to malware and other attacks, though, will now be theoretically lessened for an additional year.
ATM operators are still encouraged to make the switch to Windows 7 as soon as possible. "Our research shows that the effectiveness of antimalware solutions on out-of-support operating systems is limited," Microsoft says on its Malware Protection Center blog. "Running a well-protected solution starts with using modern software and hardware designed to help protect against today's threat landscape."
Before it's here, it's on the Bloomberg Terminal.
LEARN MORE