Jack Ryan Becomes the AARP's Latest Poster Boy
By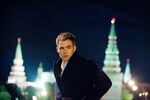 When trailers for Jack Ryan: Shadow Recruit first appeared last year, it seemed pretty clear that Paramount was striving to bring a once-classic movie series up to date. Here was the late Tom Clancy's classic spy hero, made popular onscreen by Alec Baldwin and Harrison Ford in such films as The Hunt for Red October and Patriot Games, now played by a younger actor (Star Trek's Chris Pine) and appearing in an all-new adventure set during his earlier years. This wasn't, to paraphrase the old saying, your father's Jack Ryan.
So, right before last weekend's release, it came as something of a surprise when Paramount announced that Jack Ryan: Shadow Recruit would be the first film to earn the "Movies for Grownups" seal from the AARP. The seal is the latest outgrowth of the AARP's broader (and popular) "Movies for Grownups" brand, which began in 2002 as an article in AARP The Magazine and has grown over the years into a radio program, a film festival, and even an awards show. The AARP has been giving awards to movies for more than a decade now. (Earlier this month, 12 Years a Slave won its 2013 Best Movie for Grownups award, with Judi Dench and Bruce Dern snagging Best Actress and Actor.)
New films that earn the Movies for Grownups seal will be able to select from a set of marketing packages that the AARP will provide—including promotion on the AARP's website and its social media channels. Tom Clancy remains very popular with older readers, so the idea that a film based on one of his characters would earn the AARP's seal of approval makes sense.
Demographic reality also makes this decision a no-brainer: Americans 50 and older control more than three-fourths of the wealth in the country. That's a lot of potential ticket-buyers. And though the film garnered only $15 million on opening weekend, 85 percent of viewers were over 25 years old; though no data exists yet for the 50-plus set, older audiences are more likely than young people to see a movie later on.
"From Paramount's side, it makes total sense to target mature adults because they're becoming a bigger and bigger force at the box office in terms of ticket sales," says Gitesh Pandya of BoxOfficeGuru.com. The MPAA revealed last year, for example, that the number of Americans aged 50 and above were going to the movies at least once a month rose significantly, from 7.2 million in 2011 to 7.9 million in 2012. Meanwhile, the once-much-prized teenage demographic has declined.
That said, Pandya notes that teaming up with the AARP could be a mixed bag. "This seal will probably have a real impact for viewers 60 and older. But people in their 50s may not attach themselves to the AARP brand as much and could potentially be turned off," he says. This means that Paramount will have to use this brand carefully and selectively, so the audience targeting is additive—not subtractive. In this case, if young adults watch Jack Ryan, it'll probably be to see Chris Pine anyway.