Harlem Steak House Pumps Up the Volume With Dancing DJ Beats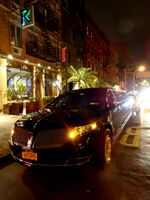 The stretch limousine parked outside Ricardo provided one clue. The exotic palms by the door another.
It was only when I entered this East Harlem establishment to be greeted by a blast of music that I could be sure: Ricardo isn't your average steak house. It's party central.
The DJ in the dining room makes conversation difficult even before tables, filled with families, celebrate birthdays with screams that greet the arrival of cakes replete with sparklers.
While the noise is penetrating, it's joyful. It's not often you see so many children enjoying themselves in a grown-up restaurant at night. They're a reminder that restaurants should be fun and don't always have to take themselves seriously.
"What makes Ricardo different from other steakhouses is that from the time the doors open to the minute we close, it's showtime," the website says. Guests "can sing along to their favorite tunes mixed by our very own DJs."
There wasn't a lot of singing at my table, though alcohol prices are set at a level that allows for a certain amount of merriment. The menu prices -- if you can see them without the benefit of a sparkler -- are lower than you might pay elsewhere.
Most starters are $12. Look under the heading "Da Meats" and you may spot that a main of filet mignon (8 ounces) with roasted Red Bliss potatoes, garlic spinach and green peppercorn sauce is $28. The B.I.G. 44-ounce prime rib is $64. Under "Fish n' Chicks," boneless chicken breast with sides is $18.
Desserts are as large and calorific as you might expect.
Food Rocks
While this isn't gourmet fare -- the presentation of the dishes is most kindly described as home-style -- the surprise in a joint that rocks the way Ricardo's does is that the food isn't at all bad. The meat had more flavor than I've experienced in fancy Midtown joints and the service was warmer. Our East European waitress looked as happy to be there as we were.
There's a spirit about Ricardo that reflects its role in Harlem. For example, there's the annual turkey drive, in which the restaurant donates 1,000 birds to families in need. You probably wouldn't go to a venue claiming a big heart if you didn't sense generosity in the hospitality.
At the table on one side of us, young children spent much of the evening dancing; on the other, the birthday celebrations lasted all night. I'm more often hemmed in by food lovers captivated by the plates in front of them.
Disco dining is a refreshing change.
The Bloomberg Questions
How much? About $40 per grown-up for food.
Sound level? LOUD.
Inside tip? Relax.
Special feature? DJ in the dining room.
Will I be back? I'm not sure my ears would take it.
Date place? Yes, unless your date is softly spoken.
Rating? **
Ricardo, 2145 Second Avenue, Harlem, New York. Information: http://www.ricardosteakhouse.com/ or 212-289-5895.
What the Stars Mean:
****         Top food, service, ambience
***          First-class of its kind.
**           Good, reliable.
*            Fair.
(No stars)   Poor.
(Richard Vines is the chief food critic for Bloomberg. He is U.K. and Ireland chairman of the World's 50 Best Restaurants awards. Opinions expressed are his own.)
Before it's here, it's on the Bloomberg Terminal.
LEARN MORE