India Divisions Deepen as Election Clouds Economic Outlook
Andrew MacAskill and Bibhudatta Pradhan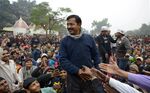 Within the pink-walled capital of India's largest state, Om Prakash joined thousands of people last month cheering on the Bharatiya Janata Party after it won an election seen as a stepping stone to reclaim national power.
Just a few weeks later the 35-year-old sculptor shifted support to Aam Aadmi, a party that didn't make the ballot in the Rajasthan state election. The 14-month-old organization rose to prominence by taking control of India's national capital from Prime Minister Manmohan Singh's Congress party, and it's winning new supporters daily before elections due by May.
"Previously in elections we never had a choice -- it was either Congress or the BJP," Prakash said over a steaming cup of tea in Jaipur, Rajasthan's capital known as the "Pink City" for its quartzite walls built in the 18th century. "I like the BJP, but this new party deserves a chance. If it makes an effort to bring down corruption, they will sweep the country."
Aam Aadmi's emergence is sapping support from the BJP and its leader Narendra Modi as the ruling Congress party lags in the polls, deepening the political disarray in Asia's third-biggest economy. An unstable government will face a tougher time approving policy changes needed to avoid a credit-rating downgrade in the nation of 1.2 billion people, where economic growth is forecast to remain at a decade-low for a second straight year and inflation is the fastest in Asia.
Investor Concerns
"If Aam Aadmi do well they are definitely going to hit the BJP vote bank," said R.K. Gupta, the New Delhi-based managing director of Taurus Asset Management Co., which manages about $726 million. "That will be a big worry for investors who are favoring Modi. In a tight election, even a small swing of seats could drastically change who forms the next government."
India's rupee has fallen 13 percent against the dollar over the past year, the third-most among Asia's major economies after Japan's yen and Indonesia's rupiah. The benchmark S&P BSE Sensex of Indian equities has gained 5.7 percent in that time.
Overseas investors who expected Modi's coalition to form the government "backed off a little" after Aam Aadmi's rise added uncertainty, Gary Dugan, who helps oversee about $53.4 billion as Singapore-based chief investment officer for Asia and the Middle East at the Royal Bank of Scotland Group Plc's wealth management unit, told reporters in Mumbai on Jan. 17.
Unstable Coalitions
Opinion polls show the BJP's coalition gaining more seats than Congress in the 545-member parliament, with neither winning a majority. The BJP and Congress currently account for 58 percent of seats in parliament, with 36 regional parties splitting the rest.
Aam Aadmi would win 4 percent of the vote if elections were held now, according to an opinion poll published yesterday by CNN-IBN, which didn't provide national results for other parties. Aam Aadmi is strongest in the northern states of Delhi, Haryana and Punjab, according to the poll, conducted by the Centre for the Study of Developing Societies, which surveyed 18,591 people across India. It provided no margin of error.
An unclear result could bring India back to the 1990s, when unstable coalitions led to three elections within three years. After the 1996 election, the BJP-led government lasted 13 days before losing power. By contrast, India's last three governments have had full five-year terms, with Singh serving longer than any prime minister since Indira Gandhi left office in 1977.
'Common Man'
The optimism over Modi stemmed in part from the BJP's victory last month in Rajasthan, where it saw the biggest margin in winning the most seats in four of five state elections. Modi's party took 82 percent of seats, more than double its tally from the last vote. The BJP is seeking to replicate that success in the national vote after Congress won 20 of Rajasthan's 25 seats in 2009.
As BJP supporters cheered in Jaipur, 234 kilometers (145 miles) away in Delhi it was the Aam Aadmi party celebrating. Founded by Arvind Kejriwal, a former tax inspector, the upstart party that translates as "Common Man" tapped into public anger over corruption scandals, rising prices and the poor state of public infrastructure to capture 40 percent of Delhi's seats, enough to deny the BJP a majority.
Though the BJP won more seats, Aam Aadmi ended up forming the city-state's government with support from the Congress party. While vilifying Congress on the campaign trail, Aam Aadmi won on promises of free water and cheap electricity, populist measures similar to those pushed by the ruling party.
BJP 'Rattled'
The BJP could see its chances of forming the next government diminish if Aam Aadmi wins as many as 20 seats in battleground states like Delhi, Haryana and Uttar Pradesh, according to Nilanjan Mukhopadhyay, an author who published a book about Modi last year. The BJP is in direct competition with the Aam Aadmi because both draw their support from urban areas and with middle-class voters, he said.
"The Aam Aadmi could be the difference to deny the BJP victory," Mukhopadhyay said in an interview. "The BJP are clearly rattled. Since the Aam Aadmi won in Delhi, Modi has lost his momentum and appears rudderless."
To be sure, the similarities between Aam Aadmi and Congress may benefit the BJP, Credit Suisse Group AG said in a Jan. 13 note. Both parties have no linguistic, geographic, caste or religious focus, making Aam Aadmi a "reasonable alternative" to Congress, it said.
"Aam Aadmi is encroaching on areas where Congress is ideologically positioned, such as redistributing wealth and supporting people from low socio-economic groups," said A.K. Verma, a political analyst at Christ Church College in Kanpur in Uttar Pradesh, India's most-populous state. Still, he said, it's unclear if the parties will align on a national level.
Street Sleeper
Aam Aadmi's Kejriwal has attacked Singh's administration in his first few weeks on the job, spending last night on the streets of Delhi to push for a law that would give local authorities control over the police, instead of the central government. The protest of several hundred people prompted Home Minister Sushil Kumar Shinde to close streets and metro stations in central Delhi, leading to traffic jams.
Aam Aadmi plans to contest about half the seats available in the lower house of parliament, mainly in northern India, according to Pankaj Gupta, an election coordinator for Aam Aadmi. The party is struggling to organize a nationwide campaign because it only decided to contest the general election last month following its success in Delhi even as donations poured in and volunteers joined up across the country, he said.
'Real Change'
"We will end India's two-party system of politics," Gupta said in an interview at the party's office in central Delhi, as volunteers swarmed the corridors. "People are coming to us because they know only we can offer real change."
Congress and BJP leaders acknowledge the threat posed by Aam Aadmi even while predicting the party may fade.
"Everyone knows this is a clear battle between the Congress alliance and the BJP alliance," said Mukhtar Abbas Naqvi, a BJP vice president.
Aam Aadmi may take a few seats off both the Congress party and BJP if they deliver on promises in Delhi, Digvijay Singh, a general secretary of the Congress party, said in an interview.
"Now it all depends on whether they can perform and sustain that momentum to create a permanent support base," he said. "To ride a movement is easy. To govern is more difficult."
In Rajasthan, Prakash's complaints of pot-holed roads and doctor shortages at hospitals reflect his frustration with two major parties seen as unresponsive. About a quarter of federal and state legislators face criminal charges including murder, rape and kidnapping, according to the Association for Democratic Reforms, which has campaigned for better governance since 1999.
"India will only progress when we have a leadership interested in helping the people of this country," Prakash said near the City Palace, one of the city's top tourist attractions. "Corruption is making our lives intolerable."
Before it's here, it's on the Bloomberg Terminal.
LEARN MORE