China Money Rate Drops as PBOC Cash Injections Spur Stock
Bloomberg News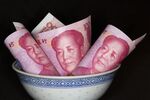 China's benchmark money-market rate fell while stocks rebounded as the central bank added more than 255 billion yuan ($42 billion) to the financial system and expanded a loan facility to meet Lunar New Year demand for cash.
The seven-day repurchase rate, a gauge of interbank funding availability, dropped 88 basis points to 5.44 percent in Shanghai, according to a daily fixing compiled by the National Interbank Funding Center. It surged 153 basis points yesterday, the most in seven months. The Shanghai Composite Index climbed 0.9 percent today, after closing below 2,000 yesterday for the first time since July.
The People's Bank of China added funds to large commercial banks yesterday using its Standing Lending Facility and conducted 255 billion yuan of reverse-repurchase agreements today. The monetary authority is also allowing small- and medium-sized banks in 10 regions to tap its SLF on a trial basis before the week-long Lunar New Year holiday starts Jan. 31.
The measures are "significant steps" that will reduce risk in the interbank market and help restore confidence as concern mounts about potential defaults in wealth-management products, Nomura Holdings Inc. said. Money-market rates typically spike before the new year break, a period in which cash gifts are made and families get together for celebratory feasts.
"The PBOC knows it can't afford any systemic risks even if it wishes to conduct stress tests on the banks," said Hu Yifan, chief economist at Haitong International Securities Group Ltd. in Hong Kong. "It's obvious that the market is still vulnerable so the PBOC has to provide cash to ease the shortfall, at least before the Lunar New Year."
Reverse Repos
The People's Bank of China conducted 180 billion yuan of 21-day reverse repos at a yield of 4.7 percent today, it said on its website. That was the first use of 21-day contracts since 2005, data compiled by Bloomberg show. A further 75 billion yuan was injected using seven-day reverse repos at a yield of 4.1 percent, the same rate as when the agreements were last auctioned on Dec. 24.
"The amount was more than expected, with the market expecting injections of 100 billion to 200 billion yuan," said Cheng Qingsheng, a Shanghai-based analyst at Evergrowing Bank Co. "It's hard to say the PBOC has changed its neutral to tight stance. The SLF expansion may have been aimed at preventing any systemic financial risks."
Rate Thresholds
Smaller lenders can seek funding before the holiday via the SLF when the seven-day repo rate exceeds 7 percent, according to a document signed by the monetary authority's Guangzhou branch and seen yesterday by Bloomberg News. Other rate thresholds are for the overnight repo rate to breach 5 percent and the 14-day to climb above 8 percent, levels that will prompt local branches of the PBOC to supply cash at those rates.
The overnight repo rate rose two basis points today to 3.80 percent, after jumping 93 basis points yesterday, according to a daily fixing. The 14-day rate climbed four basis points to 5.57 percent following a 47 basis point drop. A one-year swap that exchanges fixed payments for the floating seven-day repo rate, fell 12 basis points to 4.9 percent, based on data compiled by Bloomberg. A basis point is 0.01 percentage point.
The PBOC will conduct the SLF trials in the cities of Beijing and Shenzhen, as well as Jiangsu, Shandong, Guangdong, Hebei, Shanxi, Zhejiang, Jilin and Henan provinces, according to the statement on its website. A 120 billion yuan quota has been set aside for the trial, according to two traders familiar with the matter, who asked not to be identified as the information is confidential.
Smaller Banks
"It's correct to target the smaller banks as they are the ones that always face cash shortages before the Lunar New Year," said Tse Kwok Leung, the Hong Kong-based head of policy and economic research at Bank of China (Hong Kong) Ltd. "That is helping ease market concerns over liquidity and hence the swaps decline. The facility is more effective than injections via reverse repos, which usually guide funds toward the major banks."
Industrial & Commercial Bank of China Ltd. last week rejected calls to bail out a 3 billion yuan trust product it distributed for China Credit Trust Co., a bank official with knowledge of the matter said. China Credit raised funds for a coal miner that subsequently collapsed.
The State Council has tightened controls on so-called shadow banking with rules targeting off-the-book loans to clamp down on hidden lending. Shadow banking includes activities ranging from trusts and private lending between individuals to banks' off-balance-sheet savings vehicles, known as wealth-management products.
Financial Stocks
Today's advance in the Shanghai Composite Index was led by financial stocks, with Citic Securities Co. and Haitong Securities Co. climbing at least 1.7 percent in Shanghai. The Hang Seng China Enterprises Index rallied 1.8 percent in Hong Kong, the most since Nov. 18.
"The recent news of potential trust default and the fact that the Shanghai stock market index dropped below 2,000 on Jan. 20 suggest market confidence is weak, which may also have put pressure on the government to take action and restore confidence," Zhang Zhiwei, a Hong Kong-based economist at Nomura, wrote in a note today.
— With assistance by Helen Sun, and Fion Li
Before it's here, it's on the Bloomberg Terminal.
LEARN MORE