Miliband Makes U.K. Competition Pledge as Big Business Targeted
Craig Stirling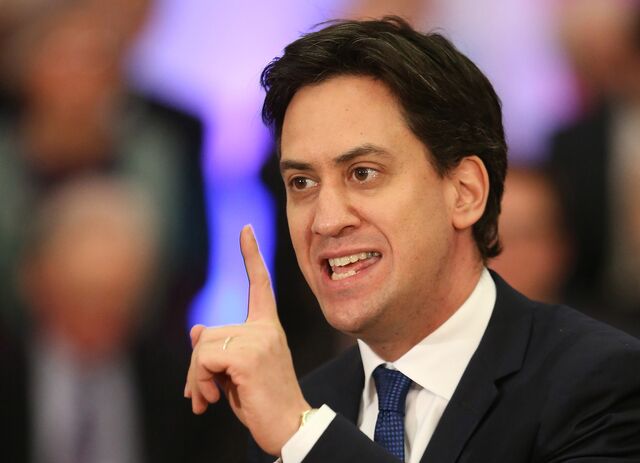 U.K. opposition leader Ed Miliband said consumer lobbies should help to form competition policy, widening his bid to position the Labour Party as a champion of voters against big business.
Miliband, speaking on the BBC's "Andrew Marr Show" yesterday, said he wants the consumer association Which? and the counseling charity Citizens Advice Bureau to join the Competition and Markets Authority in conducting an annual policy "audit" to be presented to Parliament.
The idea constitutes a third pillar of Miliband's business agenda after a pledge last week to limit banks' market share and another in September to freeze energy prices for 20 months if he wins power. An election is due in May 2015 and a poll yesterday put Labour five percentage points ahead of Prime Minister David Cameron's Conservatives, consistent with other recent gauges.
Labour should go into the next election "as the party of competition, the party of the consumer, the party of hard-pressed families, middle class families, working families who are really struggling," Miliband said.
The poll in the Independent on Sunday showed Labour has the support of 35 percent of voters, compared with 30 percent for the Conservatives, 9 percent for their Liberal Democrat coalition partners, and 19 percent for the U.K. Independence Party. ComRes Ltd. questioned 2,029 people for the newspaper on Jan. 15-16.
"The Conservatives seem quite complacent with the way the economy's going at the moment," Miliband said. "We've got growth back to about where it was in 2010, having had three years where we haven't had the growth."
Immigrants Debate
In their own bid to attract voters, the Conservatives are considering curbs on welfare benefits for immigrants who can't speak English, the Mail on Sunday reported.
"Whether you're on benefit or whether you're in work, you can't be a full member of British society unless you speak English," Communities Secretary Eric Pickles said on Sky News's "Murnaghan" program yesterday. He said that the policy "is at a very early stage."
Today, Labour will unveil its latest proposals on welfare in a speech by Rachel Reeves, its lawmaker responsible for work and pensions policy. She will pledge a so-called "basic skills test" for jobseekers claiming benefits, to act early in trying to prevent long-term unemployment.
"Shocking levels of English and maths among too many jobseekers are holding them back from getting work," she will say, according to extracts of her speech released by e-mail. "This traps too many jobseekers in a vicious cycle between low-paid work and benefits."
'Broken Markets'
Questioned yesterday on his welfare policy, Miliband said that there is a "minority of people who could work but aren't doing so," and that "I don't think we should demonize every person on benefits."
Miliband said that his new competition policy would "shine a light on broken markets."
"Too often regulators have been captured," he said. "We do need these bodies that actually know exactly what is happening in these organizations and are close to the consumer to have a seat at the table."
Before it's here, it's on the Bloomberg Terminal.
LEARN MORE