Morgan Stanley's Brokerage Bet Makes Gorman Winner Over Corbat
Hugh Son and Michael J. Moore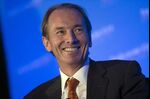 Morgan Stanley Chief Executive Officer James Gorman emerged as this week's winner among the six biggest U.S. banks after shares of his firm surged on fourth-quarter results that beat analysts' estimates.
Morgan Stanley rose 8.2 percent since banks began reporting results on Jan. 14 and closed yesterday at a premium to book value for the first time in almost four years. Citigroup Inc., the lender that sold its brokerage operations to New York-based Morgan Stanley after the financial crisis, dropped 2.7 percent since the start of earnings season.
Gorman's strategic choices are paying off after the 30 percent advance of the Standard & Poor's 500 Index last year boosted revenue at Morgan's Stanley's brokerage and equities trading divisions. Citigroup CEO Michael Corbat, 53, who took over in late 2012, posted quarterly results that missed Wall Street estimates on a slump in bond trading.
"Investors are gaining confidence that Morgan Stanley really has turned the corner and they can achieve higher profitability" at its brokerage, said Shannon Stemm, an analyst at Edward Jones & Co. in St. Louis. "Citigroup has the right strategy in place, they just aren't executing on it fast enough."
While Morgan Stanley and Bank of America Corp. climbed the most of the six biggest banks last week, they also posted the weakest profitability figures for 2013. Morgan Stanley's return on equity was 5.1 percent, excluding accounting charges, while Bank of America's was 4.6 percent. Both trailed Citigroup's 7.1 percent, JPMorgan's Chase & Co.'s 9 percent, 11 percent at Goldman Sachs Group Inc. and 14 percent at Wells Fargo & Co.
Wealth Management
Morgan Stanley shares surged the most in six months yesterday after reporting that fourth-quarter profit excluding one-time items was 50 cents a share, beating the 44-cent average estimate of analysts surveyed by Bloomberg. Wealth management revenue climbed to a record $3.73 billion as profit margin improved to 19 percent from 17 percent a year earlier.
Gorman, 55, took steps to exit some fixed-income trading units in the past year, and Morgan Stanley is the only Wall Street firm to generate more trading revenue from equities than fixed-income assets. Equity trading revenue rose 7 percent in the fourth quarter to $1.5 billion.
Fixed income, currency and commodities trading, or FICC, is "one of those businesses that's inherently difficult to predict, and in a quarter where FICC is weak, the banks that rely on it more underperform," Stemm said in an interview.
Pessimistic Predictions
Disparate trading results helped determine which firms rose or fell. Shares of New York-based Citigroup slid 4.4 percent on Jan. 16, the most in more than a year, after saying fixed-income trading revenue excluding accounting charges dropped 15 percent. While net income doubled to $2.69 billion, adjusted profit of 82 cents a share was close to the most pessimistic predictions.
Goldman Sachs fell the most in two months on Jan. 16 after the New York-based firm, which relies more on trading than any of its competitors, said quarterly fixed-income revenue dropped 15 percent. Net income declined 19 percent to $2.33 billion. The shares ended the week down 1.2 percent.
JPMorgan said fourth-quarter profit fell 7.3 percent to $5.28 billion on legal costs, mostly from settlements tied to Bernard Madoff's Ponzi scheme. Fixed-income revenue was $3.2 billion, little changed from the previous year. Shares of New York-based JPMorgan, the biggest U.S. bank by assets, rose less than 1 percent since posting results Jan 14.
Bank of America climbed 3.5 percent in that time. Quarterly profit at the Charlotte, North-Carolina-based lender quadrupled, beating Wall Street estimates as costs from soured mortgages fell. Revenue in the fixed-income trading division rose 16 percent to $2.1 billion.
Cost Cutting
Wells Fargo, the least reliant on trading among the biggest banks, rose 1.8 percent since reporting results on Jan. 14. Fourth-quarter profit advanced 10 percent to $5.61 billion as the San Francisco-based company cut costs.
Revenue from fixed-income, currencies and commodities trading fell 10 percent to $51 billion at the five Wall Street banks last year, according to data compiled by Bloomberg.
Citigroup has an "outsized" rates and currencies trading business, which may drag down results in 2014, said Todd Hagerman, a Sterne Agee & Leach Inc. analyst and former Federal Reserve bank examiner.
"It will raise the question: are they going to be in a position to generate positive operating leverage in 2014 when they continue to face these headwinds?" Hagerman said.
Before it's here, it's on the Bloomberg Terminal.
LEARN MORE