Christie Meets Florida Donors in Private Amid Democratic Taunts
Toluse Olorunnipa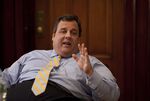 New Jersey Governor Chris Christie, his administration dogged by probes into last year's traffic jam at the George Washington Bridge, repaired to friendlier turf yesterday: private political fundraisers in Florida.
With Christie seen as a potential 2016 Republican presidential candidate, Democrats weren't far away with their public attacks.
Before Christie arrived at the Orlando Country Club for his first event, the Democratic National Committee held a press conference nearby to highlight the four-day traffic snarl in September engineered by the governor's political allies. Also targeted: Florida's Republican governor, Rick Scott, who accompanied Christie at three fundraising stops during the day.
This wasn't supposed to be the script for Christie, 51, who last November won a second term with 60 percent of the vote in a Democratic-leaning state. His focus now includes raising money for his party's gubernatorial candidates across the country as chairman of the Republican Governors Association -- and in the process expanding his national profile. The bridge incident, though, has given Democrats an opening to bash him.
"It's not every day that we have a governor visit Florida whose scandals burn so brightly that they outshine even those of our own scandal-plagued governor, Rick Scott," said U.S. Representative Debbie Wasserman Schultz, a Florida Democrat and head of the DNC, at the press conference.
The DNC also released a video highlighting negative comments Republicans have made about Christie in recent days.
Late Arrival
Christie arrived at the Orlando fundraiser about an hour late in the morning, driving past reporters who weren't allowed inside the private gathering. U.S. Representative John Mica, a Florida Republican, said the event had a "record turnout," and that Christie's plane had been delayed due to weather. He said no donors were discussing the bridge scandal.
"I've never seen anything so blown out of proportion," he said. "This isn't Benghazi, this isn't IRS, this isn't any of the scandals that are facing the Obama administration, which somehow get swept under the table."
Lawmakers on Capitol Hill have conducted several investigations into the 2012 attack on a U.S. diplomatic compound in Benghazi that killed U.S. Ambassador Chris Stevens and three other Americans, and the Internal Revenue Service's screening of Tea Party groups that advocate small government.
Check Presentation
Hundreds of donors attended the Orlando gathering and on behalf of the RGA Christie presented Scott with a $2.5 million check, said association spokesman Jon Thompson. The money goes to a political committee working for Scott's re-election in November.
Christie's Florida trip, which yesterday included fundraisers in Palm Beach and Broward County, is his first out-of-state foray since he held a two-hour news conference Jan. 9 to apologize for his administration's role in creating the traffic jam in Fort Lee, New Jersey.
Christie has said he had no prior knowledge of his office's involvement in shutting down lanes on the George Washington Bridge that leads into Manhattan in what critics call political retribution. Fort Lee's Democratic mayor, unlike some other New Jersey Democrats, declined to back Christie's re-election bid.
"Chris did the right thing" in his handling of bridge scandal, Scott said yesterday in Orlando. "He went to the community and he apologized."
Republican Party of Florida spokeswoman Susan Hepworth said Christie had "taken responsibility for the situation and we are looking forward to having him down in Florida."
Hoboken Issue
While Christie was out-of-state, another potential furor arose as a New Jersey mayor accused his administration of threatening to withhold Hurricane Sandy relief funds unless she signed off on a redevelopment project favored by the governor.
Christie's office immediately refuted the claims, made by Hoboken Mayor Dawn Zimmer, a Democrat, during an interview on MSNBC's "Up with Steve Kornacki" program.
Even as his administration faces multiple investigations in New Jersey over the bridge case, Christie is forging ahead as a fundraiser for as many as 20 Republican governors facing re-election in 2014.
The RGA, which named Christie chairman in November, banked on benefiting from his national network of donors, including those who have urged him to pursue a presidential nomination.
Christie yesterday didn't hold any public events and wasn't available to reporters, even as camera trucks lined up close to the fundraisers.
Donor Support
Several Florida-based Christie donors said they would continue to support the governor as long as no evidence emerged linking him directly to the traffic jam.
"Until something else happens where they can prove that he was aware of everything, then maybe I would change my mind a little," said Michael Pontano, a 59-year-old farm owner who donated $3,800 to Christie's re-election campaign in August. "But I've just seen what he's done for that state, I think he's made a major improvement. I like the guy."
Bill Diamond, a town councilman in Palm Beach, Florida, who attended a Christie fundraiser last year, said some supporters may hold back on their donations until the investigations are complete.
"It's a natural reaction to step back and look to see what the final results are," said Diamond, who donated $1,500 during a March 7 Palm Beach fundraiser headlined by Christie. "There are all sorts of investigations, and it's a political field day for the Democrats, obviously."
Poll Ratings
Christie's job approval rating has fallen to its lowest level in 16 months, according to a poll released Jan. 15 by Quinnipiac University in Hamden, Connecticut. His job performance was rated positively by 55 percent of New Jersey voters, down from 74 percent in February 2013.
His poll numbers remain higher than those for several other governors, including Scott. President Barack Obama's job approval rating was 39 percent in the latest Gallup Poll.
Diamond said Christie's ability to work a room will put many donors' minds at ease.
As RGA chairman, Christie will be asked to headline several private events on behalf of Republicans running in this year's 36 governor's races. In Florida, Scott is raising money at a record pace as polls show him trailing former Republican Governor Charlie Crist, now a Democrat. The committee supporting Scott's re-election raised $23 million last year; Crist, who declared his candidacy in November, took in $4 million through Dec. 31.
Another of yesterday's fundraisers featuring Christie and Scott was at the Palm Beach home of Jose F. "Pepe" Fanjul, executive vice president of Florida Crystals, one of the nation's largest sugar producers.
Lobbyist Host
The two governors also headlined a fundraiser at the home of lobbyist Bill Rubin, in Broward County. That gathering had a suggested donation of $50,000 per couple, according to a Republican official familiar with the arrangements who wasn't authorized to publicly disclose the details.
Reporters were barred from entering Hawk's Landing, the gated community where Rubin's 6,300 square-foot home is located.
Home Depot founder Kenneth Langone is hosting a meet-and-greet with Christie and Scott for donors at his Palm Beach home today, the Washington Post reported.
Scott, 61, whose approval ratings haven't topped 50 percent, trailed Crist by 7 percentage points in a Quinnipiac University poll released Nov. 21. Crist led 47 to 40 among registered voters, the poll found.
Crist's Comments
Crist, meeting with reporters on Jan. 16, called Christie's visit to Florida "interesting and entertaining," saying Scott would be willing to stand with "whoever he thinks can come down and help him get more money."
Christie fired his deputy chief of staff Bridget Anne Kelly on Jan. 9, saying she lied to him by denying involvement in the Fort Lee lane closures. E-mails and text messages obtained by news organizations, including Bloomberg, include one from Kelly on Aug. 13 to an official at the Port Authority of New York and New Jersey, which operates the bridge.
"Time for some traffic problems in Fort Lee," she wrote.
A legislative committee investigating the matter issued subpoenas on Jan. 16 to 17 people and three organizations, according to Assemblyman John Wisniewski, the Democrat leading the probe.
Christie also faces a federal audit over $25 million in Hurricane Sandy relief money that went toward a TV commercial he appeared in to promote tourism on the Jersey Shore. Democrats accused Christie of using the taxpayer-funded ads for free publicity during his re-election campaign.
Christie, whose administration has hired Los Angeles-based law firm Gibson, Dunn & Crutcher, pledged to cooperate with "appropriate" investigations during his Jan. 14 state of the State address.
Before it's here, it's on the Bloomberg Terminal.
LEARN MORE