Boeing Sued by Asiana Crash Passengers Over Speed Warning
Andrew Harris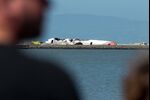 Boeing Co. was sued by more than 80 passengers on an Asiana Airlines Inc. jet that crashed in July who claim the airplane maker is liable for their injuries due to an inadequate airspeed warning system and poor training.
The Boeing-made 777-200ER slammed into a seawall at the foot of a runway at San Francisco International Airport, breaking off its tail section and bursting into flames as it pin-wheeled onto the tarmac. Three of the 307 people aboard died.
The injured passengers accused Boeing of negligent plane design and inadequate pilot training in their complaint filed yesterday in Illinois state court in Chicago, where Boeing is based. Boeing failed to install an audible low-airspeed warning in the cockpit and provided inadequate training to 777 pilots at its training facility near South Korea's Gimpo International Airport, the passengers alleged. Asiana is based in South Korea.
"The airplane came into SFO too low and too slowly," the passengers said, referring to the San Francisco airport. "The crash caused passengers, including plaintiffs, to be violently thrown about the cabin."
Two other injured passengers sued Asiana and Boeing in San Francisco federal court in July. At least seven passengers sued Boeing in Chicago state court in September.
Aircraft accident fatalities fell to a 10-year low in 2013, with 224 deaths involving large commercial planes compared with 703 annually on average from 2003 to 2012. Last year there were 17 aircraft accidents worldwide involving such planes, compared with a yearly average of 27, the European Aviation Safety Agency said in a statement this month.
The Asiana crash plaintiffs seek unspecified money damages. John Dern, a spokesman for Boeing, declined to comment on the lawsuit.
Boeing rose 25 cents to $140.46 yesterday in trading on the New York Stock Exchange.
The case is Knaus v. Boeing Co., 14L00541, Cook County, Illinois, Circuit Court, Law Division (Chicago).
Before it's here, it's on the Bloomberg Terminal.
LEARN MORE