Why Small Business Owners Are Staying Away From Obamacare Exchanges
By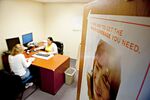 The Small Business Health Option Plan, the Obamacare program intended to help insure employees of businesses with fewer than 50 workers, is off to a rough start. Technical problems caused the federal government, which is operating SHOPs in 36 states, to delay launching online marketplaces by a year, until this November. State-run SHOPs that managed to launch online have seen low enrollment.
Alex Wayne writes for Bloomberg News today about just how slow the uptake has been. Kentucky, which garnered praise for the launch of its state exchange amid healthcare.gov's rocky rollout, had enrolled just 14 companies in SHOP plans. Colorado had enrolled 101 companies, and Connecticut 106. In New York, about 5,000 employees at companies with fewer than 50 workers had signed up for Obamacare's small business plans. It's hard to guess total SHOP enrollment, but it almost certainly pales compared with the 2.2 million people the government says obtained private insurance through individual exchanges through Dec. 28.
The problem with SHOPs is bigger than building working online marketplaces. Many small business owners renewed existing, pre-Obamacare plans at the end of last year, hoping to avoid higher premiums as new portions of the reform law took effect. With small business owners staying away from SHOPs, there may not be enough demand to attract insurers. And small business owners who have looked at SHOPs don't always like what they find, writes Wayne:
David Allen, the CEO of Flatirons Practice Management, a medical billing company in Boulder, Colorado, said he tried using the state's health exchange to buy a new policy for his employees and didn't like what he found. While he could have paid a lower premium, the deductibles were too high for the exchange plans, he said.

"It felt like the wrong thing to do, because we were shifting the burden off of me to my employees," Allen said in a phone interview. "I don't need the insurance exchange to do that for me."
It's unclear how all this will play out. Small business owners won't be able to renew their pre-Obamacare plans again for 2015, unless the plans are grandfathered, meaning they haven't changed substantially since before the Affordable Care Act passed four years ago. That means many may come back to SHOPs late this year, perhaps around the same time that the federally run small business exchanges are finally coming online. Increased demand could bring more insurers to compete for customers on SHOPs, lowering premiums. Or not.
On a related note, many small business owners will be losing their pre-Obamacare plans next fall. If there's a wave of canceled small business policies that echoes what happened to individual health plans in 2013, and business owners don't find better choices in the new marketplaces, SHOPs may be a thorny issue for Democrats in midterm elections.