Video-Game Hardware Sales Hit 3-Year High on New Consoles
Cliff Edwards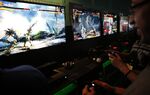 U.S. spending on video-game hardware surged to its highest in three years in December, as consumers snapped up new consoles from Microsoft Corp. and Sony Corp.
Hardware sales increased 28 percent to $1.37 billion from a year earlier, Port Washington, New York-based NPD Group Inc. said yesterday in an e-mail. The tally, the highest since spending hit $1.84 billion in December 2010, drove total retail sales for the industry to their fifth straight monthly gain. Sony and rival video-game maker Nintendo Co. fell in Tokyo.
The video-game industry is monitoring demand for Sony's PlayStation 4, Microsoft's Xbox One and Nintendo's year-old Wii U to see whether new consoles will spur a broader retail comeback, or if play has shifted permanently to smartphones and tablets. The next test will be whether software sales also start to rise. They declined 17 percent in December, in part because few titles were available for newer machines.
"The newest consoles from Microsoft and Sony are off to a tremendous start," said Liam Callahan, an NPD analyst, in the statement. "Xbox One led consoles sales in December, while PS4's two-month total makes it the best-selling console during the two-month launch window."
Sales of console hardware rose more than 50 percent, NPD said. Software fell to $1.28 billion, while the retail total, including accessories, advanced 2 percent to $3.28 billion.
'Great Start'
Sony fell 1.2 percent to 1,783 yen at 2:10 p.m. in Tokyo trading. Nintendo slipped 2.9 percent to 14,630 yen. Microsoft added 0.4 percent to close at $36.89 yesterday.
Customers purchased 908,000 Xbox Ones in December, beating out the PS4, according to Redmond, Washington-based Microsoft, which cited NPD data in a statement. It sold 643,000 Xbox 360s for third place, the company said.
Sony declined to say how many PlayStation 4s it delivered last month. The company, which released the PlayStation 4 on Nov. 15, reported this month it sold 4.2 million units worldwide as of Dec. 28. Microsoft has said it sold 3 million Xbox Ones, which went on sale a week later.
The PlayStation 4 sold the most by units in the U.S. during the two months of November and December, Satoshi Fukuoka, a Tokyo-based spokesman for Sony, said in an interview.
"It's good to see both old and new generation consoles off to a great start," said David Dennis, a Microsoft spokesman.
Supply Constraints
Sony faced supply constraints shipping to U.S. retailers over the holidays, Dan Race, a spokesman for the Tokyo-based company, said yesterday in an e-mail.
The Wii U, released in November 2012, had its best sales month yet, NPD reported without citing figures. Nintendo, the Kyoto, Japan-based maker of "Zelda" and "Pokemon" games led all hardware unit sales with its Nintendo 3DS handheld, NPD said.
Nintendo's 3DS handheld gaming machine was the best selling hardware device in the U.S. last year and in December, the company said citing NPD data. The company said Jan. 10 it sold more than 16 million combined packaged and digital 3DS games in 2013, a 45 percent increase over 2012 sales.
Game publishers haven't yet started selling enough titles for the new consoles to offset declining interest in games for older machines. Generally, they've adjusted to the shift to mobile gaming by focusing resources on fewer, bigger titles. That's kept titles for the new consoles in limited supply.
Coming Titles
The volume of new titles won't be enough to increase retail software sales until at least November, Michael Olson, an analyst with Piper Jaffray Cos. in Minneapolis, wrote in a Jan. 14 research note.
Activision Blizzard Inc.'s "Call of Duty: Ghosts," available on all Xbox and PlayStation formats, led industry sales in December, according to NPD, followed by Electronic Arts Inc.'s "Battlefield 4" and Ubisoft Entertainment's "Just Dance 2014."
Sales of next-generation releases should accelerate after February, when Electronic Arts, based in Redwood City, California, begins selling "Titanfall," a science-fiction shooter game for the Xbox One, said Michael Pachter, an analyst with Wedbush Securities in Los Angeles.
GameStop Corp., the largest specialty retailer, on Jan. 14 cut its earnings forecast because of lower-than-expected sales of games and reduced profit margins due to the higher mix of console revenue in the holiday period. The shares posted their biggest one-day decline since December 2002.
Microsoft has focused its message on applications and exclusive content, including the games "Ryse: Son of Rome" and "Dead Rising 3," and an upcoming TV show from Steven Spielberg.
Sony is trying to make the PS4 stand out by offering a wider selection of franchise and eclectic titles, including "Octodad: Dadliest Catch" by the independent studio Young Horses Inc.
For the year, the retail industry's sales shrank 2 percent to $12.97 billion, down from $13.27 billion in 2012.
Before it's here, it's on the Bloomberg Terminal.
LEARN MORE