Republican Coburn to Leave U.S. Senate at End of Session
Kathleen Hunter and Heidi Przybyla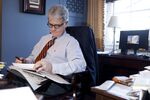 U.S. Senator Tom Coburn, an Oklahoma Republican who negotiated with Democrats on deficit-reduction and gun issues, announced he'll give up his seat at the end of this congressional session.
The session ends in January 2015, while Coburn's Senate term would run another two years. He already had announced he wouldn't seek a third term in 2016.
"After much prayer and consideration, I have decided that I will leave my Senate seat at the end of this Congress," Coburn, 65, who has been fighting cancer, said in a statement released by his office.
"This decision isn't about my health, my prognosis or even my hopes and desires," Coburn said. "My commitment to the people of Oklahoma has always been that I would serve no more than two terms."
Coburn, an obstetrician, was elected to the Senate in 2004 and re-elected in 2010. He previously served in the U.S. House from 1995-2001.
As a forerunner of the small-government Tea Party movement, Coburn in his early Senate days often contributed to delays to bring attention to spending he considered extraneous. His role in blocking bills earned him the title of "Dr. No."
In recent years, Coburn has spurned the anti-government mentality in his party, focusing instead on trying to find a bipartisan compromise on reducing the budget deficit.
Senator Obama
As a freshman senator, Coburn struck up an unlikely friendship with then-Senator Barack Obama of Illinois. The political odd couple partnered on several initiatives promoting more openness in government, including an earmark-disclosure proposal that helped form the basis for language in a 2007 lobbying law.
"Tom and I entered the Senate at the same time, becoming friends after our wives struck up a conversation at an orientation dinner," President Obama said today in statement.
"And even though we haven't always agreed politically, we've found ways to work together -– to make government more transparent, cut down on earmarks and fight to reduce wasteful spending and make our tax system fairer," the president said.
Coburn's departure probably won't alter the partisan balance in the Senate, which Democrats control 55-45. Oklahoma is a Republican-leaning state where in 2012 Obama won only 33 president of the vote to the 67 percent captured by his Republican challenger, Mitt Romney.
Special Election
A special election to fill Coburn's seat will coincide with the regular November election, according to a statement posted today on Oklahoma Governor Mary Fallin's website.
That is possible because of a law enacted by the Oklahoma Legislature in 1994 after Democrat David Boren announced his Senate resignation early that year and timed it to become effective after the November special election.
Oklahoma lawmakers voted to allow a special election to be scheduled in November by treating Boren's pending resignation as a vacancy. Before Boren, a special election couldn't be called until a vacancy actually occurred.
Republican James Inhofe won the election for Boren's seat, then won a full six-year term in 1996. Inhofe continues to hold the seat and faces re-election in November. Like Boren, Coburn would leave with about two years left on his term.
1994 Wave
Coburn was elected to the U.S. House in the 1994 wave that gave Republicans control of that chamber. His departure will open the top Republican spot on the Homeland Security and Governmental Affairs Committee. Coburn also serves on panels that oversee the financial services industry and intelligence programs.
Republicans will meet in January 2015 to redistribute committee memberships based on the November election results, and that will determine who succeeds Coburn on the committees.
He joins an exodus of some of the Senate's most seasoned dealmakers and committee leaders, including Republican Saxby Chambliss of Georgia, co-chairman of a 2011 bipartisan debt-reduction committee that included Coburn. Also leaving is Finance Committee Chairman Max Baucus, a Montana Democrat who has tried to advance revisions to the U.S. tax code.
Coburn participated in the 2011 "Gang of Six" talks, which unsuccessfully sought a bipartisan deficit-reduction package.
Background Checks
He worked last year with Democrats Charles Schumer of New York and Joe Manchin of West Virginia to strengthen background checks for gun buyers after the Newtown, Connecticut, school shootings. The talks failed amid disagreements over a paperwork requirement.
Coburn also has been willing to break with his party on identifying wasteful spending in the tax code and at the Defense Department.
Senate Republican leader Mitch McConnell of Kentucky praised Coburn in a statement late yesterday.
"No one has done more to awaken Americans to the threat posed by a government that chronically spends more than it takes in, and no one has worked harder at finding a solution," McConnell said.
McConnell said Coburn's announcement "is one that we all knew might come but that we all hoped wouldn't."
Coburn for years sought cuts in entitlement-program spending during budget negotiations and each year catalogs instances of what he considers wasteful government spending. Last year's version identified projects including $150,000 to a North Carolina company to develop a math-learning game based on a zombie apocalypse.
Oklahoma Tornado
Coburn received little support from fellow lawmakers, though, when he sought cuts elsewhere in the federal budget to pay for disaster relief following a tornado last year in Moore, Oklahoma. He also voted against the final $60.2 billion aid package to help communities hit by 2012's Hurricane Sandy.
Democrats have praised Coburn's willingness to forge relationships and seek common ground with the their party.
"Tom Coburn is very, very conservative," Schumer, the No. 3 Democrat in the Senate, said in a July 23, 2011, New York Times article. "He is a true believer, but he is one who can see the other side, which is not the case with what is going on in the House right now."
Seven other senators in the 100-member chamber have previously announced they won't be seeking new terms in November. In addition to Baucus and Chambliss, they are Democrats Jay Rockefeller of West Virginia, Tom Harkin of Iowa, Carl Levin of Michigan and Tim Johnson of South Dakota; and Republican Mike Johanns of Nebraska.
Before it's here, it's on the Bloomberg Terminal.
LEARN MORE