Morgan Stanley Cuts Investment Bank Pay to 42% of Revenue
Michael J. Moore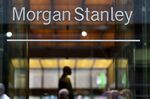 Morgan Stanley, owner of the world's biggest brokerage, set aside a smaller share of revenue to pay employees at its investment-banking and trading division.
Compensation for staff at the institutional securities unit fell 2.2 percent to $6.82 billion for 2013, according to figures posted today on the New York-based firm's website. Salaries, bonuses and previous deferred awards equaled 42 percent of adjusted revenue, down from 45 percent a year earlier.
Chief Executive Officer James Gorman, 55, joins counterparts at Goldman Sachs Group Inc. and JPMorgan Chase & Co. in cutting the amount of revenue allocated to paying bankers and traders. Morgan Stanley Chief Financial Officer Ruth Porat said in April that the firm is seeking to set aside about 40 percent of revenue for pay in institutional securities.
Companywide compensation and benefits rose 4.2 percent to $16.3 billion in 2013 as adjusted revenue increased 8.5 percent to $33.1 billion. That revenue figure excludes accounting charges known as debt-valuation adjustments. Those changes stem from increases in the value of the firm's debt, on the theory that it would be more expensive to buy back the securities.
Before it's here, it's on the Bloomberg Terminal.
LEARN MORE