Macau Gambling Tycoon's Net Worth Increases Eightfold
By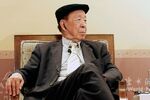 Li Ka-shing's reign as the richest man in Asia may soon come to an end, with the fabled Hong Kong property, shipping, energy, retailing, and telecom tycoon upstaged by a local businessman who has bet big on the gambling boom in Macau. The fortune of Lui Che-Woo, founder of casino operator Galaxy Entertainment Group, has rocketed over the past year, with the Hong Kong-listed company's stock price more than doubling since last March. Today, Galaxy shares rose another 4.6 percent, hitting a new record.
That's propelled Lui, born in 1929 in southern China's Guangdong province, to a close second in Asia. This year alone, his net worth has jumped by $3.5 billion to $29.6 billion.
With Macau's gaming industry likely to enjoy more growth, Lui is well positioned to build on his riches. He owns 65 percent of Galaxy, which is the third-largest casino operator in the former Portuguese colony that is the only place in China with legalized casino gambling. Already the world's top revenue generator, Macau continues growing, with casinos in the city taking in $45.2 billion last year, 18.6 percent more than a year earlier, according to the Macau Gaming Inspection and Coordination Bureau.
Investors are especially keen on Lui's Galaxy, which operates a big casino on the Cotai Strip, reclaimed land linking two islands just south of downtown Macau, and is building another scheduled to open next year. "I think investors think of Galaxy as having really grasped the vision of where Macau and in particular Cotai is going," Bloomberg Industries analyst Tim Craighead told Bloomberg Television today.
The city's casinos traditionally have relied on high rollers for the bulk of their revenues, but the business is changing and the so-called mass-market sector is becoming more important. VIP guests are less profitable for the Macau casinos, since the companies have to work with junket operators that arrange for those high rollers to travel from the mainland to Macau.
Mainstream gamblers, on the other hand, pay their own way to the city, which makes them more lucrative. The profit margin for mass-market gamblers is about three times that of VIPs. Galaxy is "shifting more rapidly than anybody else towards mass market," according to Craighead. Mass-market customers now account for 51 percent of the company's profits and 25 percent of revenue, compared with just 30 percent of revenue in 2011.
Before it's here, it's on the Bloomberg Terminal.
LEARN MORE