pursuits
China's Indie Rockers Get Boost From Online Music Platforms
Christina Larson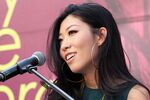 "At first I struggled a lot in mainland China; I had to educate people what it means to be a singer-songwriter," says Qu Wanting, a 30-year-old Chinese musician whose last album, Everything in the World, went triple platinum in China and Hong Kong. In the early days of her career, Qu had trouble gaining traction in part because the concept of a vocalist writing her own music didn't fit with the Chinese industry standard of a pop princess belting out pre-written ballads. But that wasn't her strength. "I think my voice is OK, but my songs are unique because I sing about my own life," she says.
One of Qu's initial boosts came from having her songs uploaded to the online music streaming and subscription site Xiami.com, which was founded in 2007 and bought by Alibaba last year. China's traditional music industry is controlled by a handful of labels that are not only responsible for censorship—practically speaking, that means denying ISBN numbers to songs or albums deemed vulgar or politically inappropriate—but also tend to favor acts similar to ones that have been successful in the past. Although it's been hard for musicians with novel voices or viewpoints to break into the industry, new online music platforms have now widened the possibilities for musicians like Qu to find fans—and for listeners to be exposed to a much broader spectrum of songs.
"Indie and punk have been developing very quickly, but it's still relatively new in China," says Nevin Domer, who books acts with the upstart record label Maybe Mars, founded by the Beijing-based economist and polymath Michael Pettis.
It's not only fans who've embraced new ways of discovering and distributing music. "Through vehicles like Xiami, young people in China have access to a lot more types of music—and now brands like Guinness are interested in sponsoring [bands and events] because they can reach a different audience," says Nathaniel Davis, founding partner at the China-based music promotion and creative consultancy Split Works/Splatter. Last May, the Irish stout sponsored the three-day Wood + Wires Music Festival in Shanghai. Davis says Calgary beer and fashion brand H&M have also sponsored indie music events in China, hoping to gain exposure before young discerning fans.
Wang Hao, Xiami's chief executive officer, says that large Internet companies are now investing to gain exclusive rights to distribute music. "I think there's going to be a lot of changes in the online music market in the next year, stemming from changes in copyright," he told journalists at a panel discussion in Beijing on Friday. "Tencent, Baidu, and Alibaba are signing a lot of exclusive copyright deals; they're investing heavily, contrary to what we've seen in the past. These huge conglomerates can invest in acquiring copyrights and then enforce them." He predicts an era of consolidation in online music platforms, which may function as "independent copyright fiefdoms." How well that will serve fans remains to be seen, but artists like Qu may stand a better chance at making a living off their music.
Before it's here, it's on the Bloomberg Terminal.
LEARN MORE