Meet Chris Christie's Smash-Mouth Defense Lawyer
Paul M. Barrett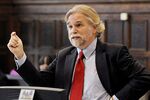 Subtle he ain't. That goes for the embattled governor of New Jersey and for the heavy-hitting white-collar defense lawyer he's retained to fend off investigations of Bridgegate.
New York politicos responded with an "of course he did" when word came yesterday that Governor Chris Christie had hired Randy Mastro of Gibson, Dunn & Crutcher to deal with legislative probes of the Fort Lee (N.J.) traffic scandal that has imperiled the pugnacious politician's presidential ambitions. Mastro has historic ties to Christie ally Rudolph Giuliani, for whom Mastro served as a top deputy in the Manhattan U.S. Attorney's Office and at New York's City Hall. During the Giuliani administration in the 1990s, Mastro headed an offensive against organized crime that infected the Fulton Fish Market, the private garbage industry, and Little Italy's famous Feast of San Gennaro festival.
Since moving out from under Giuliani's wing, Mastro has established himself as one of New York's most prominent—and most feared—courtroom defenders of corporations, celebrities, and anyone else who gets in legal trouble and can pay Gibson Dunn's steep bills. Currently he's representing Chevron in its civil-racketeering lawsuit against plaintiffs' attorney Steven Donziger. In that potentially precedent-setting case pending in federal court in New York, the U.S. oil company is seeking to undermine a multibillion-dollar verdict Donziger won in Ecuador in 2011 on behalf of poor rain forest residents complaining of environmental contamination. After a six-week trial last fall, a federal judge is expected to issue a ruling soon in Chevron v. Donziger.
By hiring Mastro to represent the governor's office, Christie is sending a clear signal: He does not intend to conciliate with New Jersey lawmakers or federal prosecutors who are investigating whether Christie approved of his underlings' efforts to snarl traffic approaching the George Washington Bridge. E-mails among the Christie aides and appointees have revealed the traffic-blocking gambit as a gesture of political retribution against the Democratic mayor of Fort Lee, a small town on the New Jersey side of the bridge.
Mastro dresses in conservative dark suits and wears his wavy white hair relatively long. When arguing in court, he bounces on the balls of his feet and speaks with an insistent nasal voice. He cultivates a reputation for always attacking, typically with a massive force of well-compensated attorneys from Gibson Dunn, a Los Angeles-based litigation powerhouse.
His roster of past clients includes Bank of New York Mellon, JPMorgan Chase, Bear Stearns, Saks, Hewlett-Packard, Lehman Brothers, and tennis stars Martina Hingis, Anna Kournikova, and Steffi Graf.
Mastro suffers neither a lack of self-confidence nor an excess of modesty. On his bio page on Gibson Dunn's website, he quotes an unnamed peer as saying: "You do not want to meet Randy down a dark alley. But you REALLY don't want to meet him in a lighted courtroom." Mastro quotes another colleague's comment that "I've never gone against Randy before myself, but I've seen him at work and I can only imagine that going against him must be like wrestling an alligator."
Before it's here, it's on the Bloomberg Terminal.
LEARN MORE