Ackman's Losing Bet on Herbalife Looks Up After Chinese Probe
by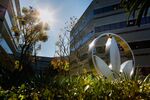 A Chinese government investigation into a skin-care company suspected of being a pyramid scheme is helping billionaire American hedge funder Bill Ackman.
Herbalife, the nutritional products company that Ackman has called a pyramid scheme, fell almost 9.8 percent Jan. 17 amid news of a Chinese government probe of Nu Skin Enterprises. Both are multilevel marketers—companies whose salesmen recruit other sellers, who recruit yet more sellers, and so on, with proceeds from customers trickling back up the line. While that's a legitimate business model, Ackman, who runs hedge fund Pershing Square Capital Management, has said that Herbalife crosses the line into fraud. The company denies that it's a pyramid scheme, as does Nu Skin.
It was Herbalife's steepest one-day drop since Dec. 21, 2012, the day after Ackman laid out his case against the company and said he was shorting the stock.
Since that very public presentation, though, Herbalife has soared—returning as much as 212 percent, as rival billionaire investors Carl Icahn, Daniel Loeb, and others took the opposite position by buying the stock. By December 2013 he had lost as much as $500 million.
On Dec. 23, Ackman told his investors that he would reveal additional damaging information about Herbalife in 2014. "Herbalife investors incorrectly assume that we have disclosed everything negative we know about the company's business," Ackman wrote in a letter, as reported by Bloomberg News.
Herbalife reports its next quarterly earnings on Feb. 18.
In other news that will disappoint Ackman antagonists, Pershing Square may have made $342.5 million on the sale of Beam to Suntory Holdings, Bloomberg News reported Jan. 13. The hedge fund gained 9.3 percent in 2013; by comparison, the Standard & Poor's 500-stock index climbed 32.4 percent, including dividends.
Before it's here, it's on the Bloomberg Terminal.
LEARN MORE