Venezuela Post-Chávez: Hustlers' Paradise
By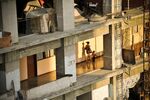 Venezuela, a country of 30 million, has been in a state of economic bedlam since strongman socialist Hugo Chávez succumbed to cancer a year ago. His successor, former vice president and bus driver Nicolas Maduro, has a penchant for sub sandwiches and the teachings of an Indian spiritual guru with an afro. The stock market is up 483 percent in the past year, largely because people holding depreciating Venezuelan bolivars seek any store of value and traders bet on the end of Chavismo and/or a return to some semblance of capitalistic rule of law.
The black market, meanwhile, seems straight out of Mad Max. Last year the bolivar tanked 73 percent vs. the U.S. dollar on the unofficial but prevailing Caracas street exchange rate, a crisis that has spawned hording, looting, and dire shortages of food and consumer staples such as toilet paper and soap—this in an economy with the world's No. 1 oil reserves. Last year upward of 24,000 murders occurred in Venezuela, making it one of the bloodiest nations on the planet. A former Miss Venezuela and her husband were recently ambushed and killed in front of their five-year old daughter.
The Maduro regime has sanctioned an officialized version of looting—where military guards take over stores and lower prices—and has ordered the central bank to halt its release of regular statistics for the first time ever, as Venezuela faces spiking costs on $10 billion of new financing it needs. In a televised Nov. 23 address, the president argued that these emergency measures will lead to deflation.
Yields on Venezuela's sovereign debt skyrocketed in the past year, to just under 14 percent, tops among 50 emerging markets tracked by JPMorgan Chase.
Caracas's central bank, which also scotched its annual inflation report in November, did issue a year-end report on monthly price changes that blamed an "economic war" led by opposition leaders. It vowed to develop indicators that better reflect the "new economic and social reality in the country."
As for more traditional metrics: Annual inflation is currently running above 55 percent, while economic growth slowed to 1.6 percent in 2013, from 5.6 percent the previous year. International reserves have been cut in half since 2008, to approximately $22 billion. Last month, Moody's and Standard & Poor's slashed Venezuela's rating to the lowest level in a decade, citing poor economic policymaking. Devaluation looms, and a plunge in oil prices could well sound the death knell for whatever post-Chávez order now barely holds.
One in five basic goods was out of stock at any given time in the nation, according to the central bank's last scarcity report in October. It has since stopped providing these data.
Caracas, meanwhile, is home to 155 "invaded buildings," including the infamous Tower of David, an abandoned, gangster-squatted skyscraper that was immortalized in the latest, must-miss season of Homeland.
Flourishing cross-border price gouging is taking place between Venezuela and its neighbor Colombia: You can buy government-regulated staples, such as rice, at 6.3 bolivars to the dollar and sell them at 10 times that ratio. Bloomberg News recently reported that Guajira Indians with dual nationality and exemption from border controls camp outside Venezuelan markets ahead of deliveries, hoard anything they can, and either mule the goods to Colombia or partner with gangsters in trucks (with plenty of bribe money) to offload them at the black market exchange rate. So average Venezuelans in cities such as Caracas and Maracaibo drive hours over the border in search of rice and toilet paper at 10 times what they would pay at home—if there was anything on the shelves.
Venezuela's rice exports to Colombia have doubled this year and now represent 11 percent of the market, according to the U.S. Foreign Agricultural Service and an association of Colombian growers. Venezuela was a net importer of rice as recently as 2006. Maduro has urged citizens to abstain from "nervous buying" of imports, announcing last week on state television that "consumerism is an addiction that destroys the human being."
"I would call the situation 'managed anarchy,'" says Jerry Haar, a professor of finance at Florida International University in Miami. "Maduro doesn't have the loyalty of the masses—much less the charisma, or even the brains—that Chávez had. It's a no-man's land under him, where the poor say, 'kill the rich!' but the rich are busy making a hell of a lot of money on scams and moving dollars to Miami." The good news, adds Haar, is the bad news: "Someone else will rise to power, but he will have to put Humpty Dumpty together."