business
Time for Smart-TV Makers to Get Smarter
Michael Murphy and Tammy Demarco and Todd Newman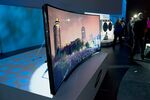 There was no lack of flashy announcements about advances in television at last week's International Consumer Electronics Show (CES), from Samsung Electronics' (005930:KS) curved screens to Roku's plans to venture via Chinese partnerships into the TV screen maelstrom.
Yet most of the unveilings of bigger screens, super-HD resolution, and streaming content seemed like a desperate attempt by manufacturers to recapture consumers who appear to be perfectly satisfied (for now) with their 40-plus inch, 1080 lines-of-resolution sets and various accoutrements, as evidenced by last year's lackluster TV sales.
The amount of TV screen real estate available is somewhat akin to discussions about the horsepower in your car: Yes, it does matter, up to a point, after which most consumers don't care anymore. The same can be said of the latest in super-HD; there is a limit to how many pixels per inch the human eye see.
How can manufacturers get consumers to replace a TV that works just fine? Here are a couple of areas they can focus on:
Make the sets social by linking the TV and the second screen. Manufacturers need to find ways to make the viewing experience more seamless and meaningful between the screen on the wall and the one in your hands. From a technological standpoint, there's no reason viewers can't watch a show and simultaneously post a status on Facebook or a tweet on Twitter that can be viewed by friends on their sets. It's already happening on tablets and smartphones–it's just not happening on TVs.
Connect advertisers with consumers. More than 60 years in, the TV ad experience is basically the same–all push and all passive. To this day, we have not cracked the code by delivering content to the TV that immediately lets you link to or purchase a product. If I see an ad for a new mobile device or kitchen gadget, shouldn't I be able to seamlessly pop onto Amazon.com with one click of my traditional TV remote or linked mobile device and buy one?
Standardization is needed to pull together a fragmented smart-TV market. Innovation is happening, but proprietary systems are limiting its potential. Smart displays from Samsung, Sony, Vizio, and others all run different operating systems and require apps to be tailored specifically for their platforms. And as every user of the first generation of smart TVs knows, the apps can often be a bit flaky. Just like we've seen in mobile device operating systems, a standard has to emerge that cuts across the landscape and allows for a more open development environment for content providers to create rock-solid apps for smart TVs.
Where's the content aggregation? Browsers are great for searching and discovering your favorite shows, but there's no version of a TV Guide that searches across content providers and points you to the right one. Once you're inside the universe of Netflix, Hulu Plus, or Amazon Prime, these content providers do a nice job of suggesting new programming. We need an aggregator of programming and reviews that can actually broker a transaction with content providers.
So come on, TV industry–pool your collective brainpower and deliver the next generation of innovative ideas that will make consumers "ooh" and "aah" … and spend.
Before it's here, it's on the Bloomberg Terminal.
LEARN MORE