Thailand's Government Says the Crisis Is Indeed Hammering the Economy
By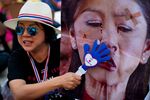 Thailand's political crisis is just the latest chapter in a saga that has been going on since the coup that ousted then-Prime Minister Thaksin Shinawatra in 2005, and many foreign observers have become accustomed to the turmoil between the Yellow Shirts and the Red Shirts (anti-Thaksin and pro-Thaksin) forces as just part of the Thai landscape, a cost of doing business similar to disastrous weather in the Philippines and creaky infrastructure in India.
That's one reason Fitch Ratings, for one, remains sanguine about Thailand. Even with protesters clogging the streets of downtown Bangkok this week, the country has a stable outlook. "We have seen repeated political disturbances stretching back to the mid-2000s. … without a clearly identifiable negative impact on the performance of the economy or on financial- or banking-system stability," Andrew Colquhoun, head of Asia-Pacific sovereigns at Fitch Ratings, told Bloomberg Television on Wednesday. "For these reasons, we do look through the current political noise."
With protesters getting more daring and the likelihood growing of yet another military coup, tuning out the clamor is becoming more difficult. "This is not going to bounce," says Tim Condon, head of Asia research in Singapore for ING Investment Management. "This crisis, this political drama, is proving more durable than any of us thought."
In an acknowledgement of the severity of the economic impact, Thailand's finance ministry today announced that it expects growth of 3.1 percent this year, less than the 4 percent forecast it made on Dec. 26. And that post-Christmas number was a step down from the government's original forecast of 5.1 percent.
With even the government now saying growth will be a full two percentage points lower this year, the political unrest finally seems to be taking its toll on the Thai economy. The prolonged crisis in Bangkok "will weigh on an already fragile growth outlook for 2014," Moody's said in a statement published today.
The country's economic mandarins are trying to stay focused. For instance, Bank of Thailand spokeswoman Roong Mallikamas said today the scheduled meeting of the central bank's Monetary Policy Committee would proceed as planned, despite the anti-government protests. Six of seven economists surveyed by Bloomberg expect the bank to lower its key interest rate 25 basis points, to 2 percent.
Employees of the Bank of Thailand haven't been able to work at headquarters all week, with protesters in the capital forcing the closure of some streets. And while the Bank spokeswoman said next week's committee meeting will take place, it's anybody's guess where it will happen. Roong wouldn't tell reporters its location.
Before it's here, it's on the Bloomberg Terminal.
LEARN MORE