Sheryl Sandberg's New Book: Lean In For Graduates
Amy Choi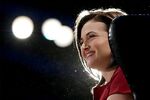 In 2011, Sheryl Sandberg called for women to "lean in" in a commencement speech at Barnard. Three years later, the bestseller spawned by that speech, Lean In: Women, Work, and the Will to Lead, is getting a reboot to focus on today's grads, the millennial women (and men!) just starting out in their careers.
Lean In For Graduates will be available in April, just in time for graduations everywhere and a year after Sandberg sparked inspiration and angst with the original. Though its intended audience was arguably women who were already working, the book sparked more than 200 campus-based Lean In circles, which range from women-only groups such as Julia Carpenter's group of journalism-focused peers at University of Georgia to mixed-gender minority-focused circles, such as Mark Feng's gathering of Asian-American students at Harvard Business School. The groups, following the guidelines put forth by LeanIn.org, meet regularly to discuss career strategy, networking, and provide support.
The updated version will include a letter to graduates from Sandberg, as well as new chapters such as "Find Your First Job," "Own Who You Are," "Listen to Your Inner Voice," and, intriguingly, "Man Up: Millennial Men and Equality." As part of the promotion for the book, Sandberg plans to meet with Lean In circles on college campuses.
For new female grads, leaning in to careers they don't yet have may not be the problem. The better advice may be more specific: Ask for more money.
As Businessweek reported in 2012, the American Association of University Women found that professional, educated women working full time earned 82 percent of what their male peers earned just one year out of college. While part of that may be due to bias, the other part, said study authors, could be due to salary negotiations. Men are more than four times as likely to negotiate the salary for their first job than their female peers, a distinction that compounds over time. Linda Babcock and Sara Oschever, authors of Women Don't Ask, found that, all else being equal, someone who negotiates his first salary will earn $500,000 more by the time he is 60 than someone who accepted the first salary offered.
"There's a real need for assistance at the end-of-college process to launch jobs and careers," says Tira Harpaz, founder of Larchmont (N.Y.)-based CollegeBound Advice, a college counseling firm. "Lower salary and benefits, if not negotiated properly at the first job, can follow you around for your entire career."
The challenge, of course, is making the book sexy and relevant enough to compete for a busy student's attention. "College students are extremely busy with the work of just getting through the day," says Harpaz. Our informal poll of relatively recent Ivy League grads found that while many bought the book, few finished it. Maybe instead of releasing a hardcover edition, Sandberg could consider a series of Confide selfies.
Before it's here, it's on the Bloomberg Terminal.
LEARN MORE