Charlie Rose Talks to Ex-Defense Secretary Robert Gates
The former secretary of defense explains his criticisms of President Obama in his just-released book, Duty
By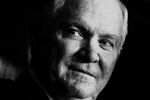 The Beltway reacted strongly [to criticisms of President Obama in the book Duty], asking, "Are you trashing the president?" What do you make of that?
I think the narrative of the book was hijacked in the early reporting. Most people hadn't read the book. There was some narrative put out there that this is an anti-Obama book, a book that takes issues with his strategy and everything in Afghanistan. And it's just completely wrong. I'm very clear in the book—I supported every single one of the president's decisions on Afghanistan from the day he took office until the day I left office. It's not exactly wrong in that they do have quotes from the book that are accurate, but they're out of context.
 
So explain the issues that you had with the president.
My concerns with the president fell into two buckets. The first was his suspicion of the motives of some of the senior military leaders. He clearly believed—and so did everybody else in the White House—that the military leadership was trying to box him in and force him to make a significant additional commitment of troops in Afghanistan. And there was cause for him to be suspicious. But I didn't believe it then. I don't believe it now.
 
What about the other bucket?
In the fall of 2009, I told the president, "Don't pick a middle option. Either agree to a significant troop increase or make a dramatic decision in the other direction. Don't do it halfway." And the president was committed. The president made a tough decision. And I admire him for that. But I think that, you know, our troops, they're very smart. I think they noticed. He made a lot of speeches about supporting the troops. And I do not fault the president at all in the book in that respect. I'm faulting him for not going out and defending a war and a mission that he was sending young men and women out to accomplish. And they need to hear that from their commander in chief.
 
There's also Obama's micro-managing. You hated that, didn't you?
I strongly believe that the White House and the national security adviser need to drive the policy process. The big bureaucracies—Defense, State, I've seen this through my whole career—rarely if ever come up with big ideas. It's happened in every presidency that I served. So I never had a problem with that. The problem I have is when they begin to become operational and they seem to micro-manage military operations, when they interfere, in effect, with the chain of command. Those are things that got under my skin.
 
What's your response to critics who say you revealed too much, too soon?
Let me just make two additional points. Some folks accuse me of hypocrisy, of saying things in this book that I did not raise with the president or with people working for the president and the White House. Although I acknowledge that I didn't raise the micro-management issue with the president, I certainly did with the chief of staff and the national security adviser. So there's no issue in that book on which I did not express my views very forcefully while I was still in office.
The other is, in terms of reporting on conversations and the idea of should I have established this now, I would just ask interviewers and others to be sure and ask the same question of Secretary Geithner, Secretary Panetta, and Secretary Clinton when their books come out before President Obama leaves office.
BOTTOM LINE -
Watch Charlie Rose on Bloomberg TV Weeknights at 8 p.m. and 10 p.m. ET.
Before it's here, it's on the Bloomberg Terminal.
LEARN MORE