Review: HGTV's Beat the House
HGTV's latest real estate show puts buyers on the spot
Jessica Grose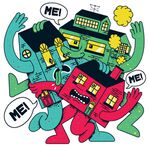 Kara and David Oliver, an attractive young couple with a toddler son, want to move from Hoboken, N.J., to a more suburban part of the state, and their budget is around $300,000. They find a cute brick house, listed at $299,000, with a small backyard that's near a local park. The Olivers are ready to bid. "We need a house to start feeling like a family," says David, who appears on HGTV's Beat the House, yet another series about middle-class couples playing real estate roulette. In this one, two competing brokers try to woo the Olivers and other couples like them away from a reasonable house on which they've already decided to put an offer.
The agents are distinguished by their opposing sales strategies. JoJo Jones, an aging Southern belle who favors statement jewelry and bright makeup, "sells with her heart." In the first two episodes, she tries to nudge couples over their agreed-upon budgets by gushing about beauteous backyards for their kids to play in. The other broker, Christopher Kromer, is a gravelly voiced ex-financial consultant who "sells with his head." He emphasizes things such as how a gut kitchen renovation will improve a property's resale value.
As a piece of entertainment, the show is appealing enough, though it's not particularly original. It's also not particularly realistic, making issues such as bidding wars, problematic inspection reports, and mortgage approvals magically disappear.
What feels new about Beat the House is that it capitalizes on a specifically modern fear—the recently coined "fear of missing out," or FOMO. It's a digital-era malady, triggered by the endless possibilities presented by the Internet and social media. There are 67 million visitors to real estate sites in the U.S. every month, according to sales site ComScore. Potential homeowners see hundreds of options instead of the dozen or so they would have been schlepped to by an agent 20 years ago.
"Is this the absolute best house?" the brokers ask on Beat the House, stoking this anxiety and making the buyers question themselves. The home shoppers evaluate their new, often more expensive options with comments like "a fantastic neighborhood that we never even considered" or "It took my breath away. It looks like it belongs in a magazine."
Yet the young couples featured in the first few episodes are unexpectedly impervious to the fripperies Jones is pushing, and they aren't excited by Kromer's financial justifications, either. When given the choice between two new houses and their original picks (all in suburban New Jersey), both sets of buyers go for the cheapest option, within their $300,000 to $400,000 budgets.
This may reflect changes in the U.S. housing market as a whole. Michele Kolsky-Assatly, a New Jersey real estate agent, says buyers are now extremely careful with their money, much more so than people in the mid-Aughts. House hunters in 2014, she says, have the attitude of "This is what I can afford. God forbid I lose my job, I'll still be able to keep my home." The stats back this up. According to LendingTree Chief Executive Officer Doug Lebda, in 2007 the average down payment was only 9 percent. In 2013 it was 16 percent.
Homeownership, even for millennials, those hardest hit by the recession, is still a big part of the American dream. A 2013 Gallup poll found that almost 70 percent of non-homeowning 18- to 29-year-olds plan on buying a house within the next decade. What's changed since the bubble burst is that the American dream home is no longer a McMansion you can barely afford. Much to JoJo Jones's disappointment, it's something more down-to-earth.
Before it's here, it's on the Bloomberg Terminal.
LEARN MORE