Michael Bolton Returns as TV Commercial Pitchman
The return of Michael Bolton
By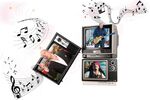 Michael Bolton wants to sell you a Honda. And Starbursts. And Tidy Cats cat litter. And also Optimum cable service. The 60-year-old singer, known for corny Nineties power ballads and his fondness for absurdly large shoulder pads, is busier than ever.
Bolton first recorded songs for commercials in the early 1980s, mostly for soda brands such as Diet Coke, Pepsi, and 7Up. "One day I went into a cooler to grab a soda and realized I had pretty much sung about every beverage in there," he says. He quit making jingles in 1987 and began churning out emotive love songs such as When a Man Loves a Woman and Time, Love and Tenderness. He had eight hit albums and won several Grammys, but as the years went by, his name—and that long and lusciously flowing hair—became shorthand for the lamer side of rock.
But then in May 2011, Bolton appeared in a Saturday Night Live digital short, produced with the Lonely Island, the comedic music group headed by Andy Samberg. "When we met, I told Andy, 'My daughters are so psyched that I'm sitting here with you,' to which he responded, 'My mom is so psyched that we're sitting here with you!' " he says. In the video, Bolton is white-toothed and tan and openly parodying his own image by singing a love song about Pirates of the Caribbean's Captain Jack Sparrow. "My whole life I've had a reputation, at least among people who know me, as the class clown," Bolton says.
Advertisers are forever searching for the next great celebrity spokesperson to join the ranks of Bill Cosby, who guffawed for Jell-O; Fabio Lanzoni, who preened for I Can't Believe It's Not Butter!; and William Shatner, who hawked Priceline as if his life depended on it. And they're willing to pay: In 1986, Cosby received an estimated $10 million for a contract with Kodak; Shatner was compensated in Priceline shares that at one point, after he sold them, were valued at $600 million.
"You need someone who can lure you in with his charisma but who knows you're watching in a tongue-in-cheek way," says David Muhlenfeld, vice president and creative director at the Martin Agency, an advertising firm in Richmond, Va. "Michael Bolton is perfect for this. He's got this Tom Jones-style persona where all the moms love him, but he's also a really good singer, so you don't cringe when you watch him."
After the Lonely Island video, companies started calling. "Brands are incorporating [more] humor in their advertising concepts, and that's something I'm very attracted to," Bolton says. In 2012, Tidy Cats commissioned him to act in a commercial in which he hides out in a cabin in the woods because, he says, "this Michael Bolton lifestyle has caught up with me—the greatest hits … the huge paychecks, and predominantly female fans, I can't do it anymore." Next, Optimum used him to promote its Internet service by pretending that his phone number was one digit off from its help line. He even recorded a greeting for people curious enough to ring him up: "Press one if you thought you were calling Optimum. Press two to hear me shred on the guitar."
Bolton's biggest success so far has been the series of six Happy Honda Days commercials that started airing in November. In one, he serenades a surprised couple from the back seat of their car. In another, he ski jumps in a Honda dealership lot. "The marketing team behind the holiday Honda ads was inspired to use Michael Bolton after the spoof of Pirates of the Caribbean," says Susie Rossick, senior manager of regional marketing at American Honda, noting that Bolton's "ability to poke fun at himself made him a great candidate for this campaign." The commercials overlapped with his new campaign for Starburst.
Bolton has sold more than 53 million albums. He still tours regularly, appearing at smaller arenas, where tickets go for hundreds of dollars. "When Michael Bolton shows up on TV, you think 'Damn, he looks good.' If he was just some one-hit wonder who was sad and broke, no one would want to make fun of him," Muhlenfeld says. Asked who else might one day have the Bolton-esque spotlight, he offers Hall & Oates. "Provided that they perform together," he says, "and that Oates still has his mustache."
Before it's here, it's on the Bloomberg Terminal.
LEARN MORE