Why 42 Swedes Said Ich Bin Ein Berliner
An airline contest lured dozens to change their name to Klaus-Heidi
by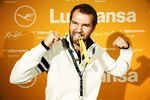 What's in a name? For Michael Eric Klaus-Heidi Andersson from rural Sweden, the answer is airfare to Berlin, a furnished flat in the German capital's hippest district, and a bike to get around town. Until recently, the 24-year-old's name was Michael Eric Andersson, but last fall he legally added Klaus-Heidi to win a marketing contest by German airline Deutsche Lufthansa.
He was chosen from 42 Swedes—men and women—who all changed their names to Klaus-Heidi. (Andersson's poem, an ode to Berlin, was deemed most creative.) He gets a rent-free apartment for a year in the Berlin borough of Neukoelln, language classes to improve his rudimentary German, and flights to explore the country. "It's all a bit surreal, but fun," Andersson said after arriving at Berlin's Tegel Airport on Jan. 8. Sporting a cropped beard and a bewildered look, he was greeted by a pair of Lufthansa flight attendants, a crooning guitarist hired to welcome him, and a woman wrapped in a giant inflatable coffeepot to promote a local supermarket.
The publicity stunt is unusual for an airline better known for German attributes such as reliability and a distinct lack of humor. But it underpins Lufthansa's effort to boost its image among younger travelers drawn to discount airlines like Ryanair, whose outspoken chief executive officer, Michael O'Leary, has long set the industry standard for guerrilla marketing, floating ideas such as pay toilets and standing-room spots on planes. The combination of two familiar yet old-fashioned German names in Lufthansa's contest aimed to appeal to both men and women while adding an ironic twist. "Some people said this would be too weird and the wrong fit for a company like Lufthansa," says spokesman Wolfgang Weber. "But the campaign has really hit the spot."
Berlin has long capitalized on the raw appeal of its cafes, boutiques, and avant-garde nightclubs, which have a bohemian vibe not typically associated with Germany. That's turned the city into a canvas for companies looking to rejuvenate their image. Lufthansa's Klaus-Heidi campaign included a rapid-fire online video touting the delights of late nights in Berlin's graffiti-covered clubs.
Andersson, who's worked at odd jobs that include rock blasting and travel journalism, says he'll soak up Berlin's culture and look for work to get to know the city, which he last visited when he was 14. His most recent employment contract ended last year, providing an opening for his Berlin sojourn. For the next year, his home will be a 750-square-foot flat with a balcony decked out with Berlin hipster must-haves such as hardwood floors, vintage designer furniture, and minimalist artwork. The single-speed bike comes with a Lufthansa logo and a label declaring it "Property of Klaus-Heidi." He'll get food vouchers of €50 ($68) a week, free access to museums for the year, and—to keep him warm on Berlin's cold winter nights—the pajamas Lufthansa gives its first-class passengers. The other contestants each received 60,000 frequent-flyer miles, enough for a trans-Atlantic round trip.
Andersson says he doesn't plan to drop Klaus-Heidi after his Berlin year is up. "I now see Klaus-Heidi as part of my full name," he says. "And it's definitely an icebreaker."
Before it's here, it's on the Bloomberg Terminal.
LEARN MORE