Park Ave Power Breakfast Returns as Loews Regency Reopens
Amanda Gordon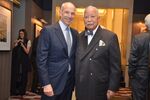 An invite-only Power Breakfast returned to the Tisch family's renovated Loews Regency Hotel New York this morning, with politicians and financiers flocking back after a year of making do with lesser venues.
Alan Patricof, founder of Greycroft Partners LLC, sat with his venture-capital colleague Alexander Farkas, talking about the Super Bowl. Patricof will be taking his grandson to the NFL championship on Feb. 2 across the Hudson River in New Jersey.
Blair Effron, co-founder of Centerview Parters LLC, and Steven Price, chief executive of Townsquare Media Inc., said at the coat check that they talked about their kids.
Anthony Scaramucci, founder of SkyBridge Capital, didn't stay seated for long, hopping to his feet to say hello to Andrew Tisch, co-chairman of Loews Corp., who was eating a bagel while his wife Ann tried the poached eggs.
Andrew's cousin Jonathan Tisch, the other co-chairman and boss of Loews's hotels, didn't sit at all. He greeted guests including Jonathan Harris, president of Alternative Investment Management LLC; Scott Stringer, New York City's comptroller; and Lawrence Benenson, executive vice-president of Benenson Capital Partners LLC.
From tomorrow, diners will pay their own way at the Power Breakfast, which first gained traction in the 1970s. The previous Tisch generation, brothers and hotel founders Preston Robert Tisch and Laurence Tisch, gathered together prominent New Yorkers to find solutions to the city's fiscal crisis. Until the renovation, it had been a weekday tradition ever since.
Chatty Policemen
Jonathan Tisch, making sure proceedings went off without a hitch, asked where the guests' newspapers were. A stack of them arrived soon after, with the New York Times disappearing first.
The best viewing perch in the restaurant, which is run by Sant Ambroeus Hospitality Group, may be the center booth in the front room. Today it belonged to former New York Mayor David Dinkins and his son, David Dinkins Jr., who oversees production of sports programming at Showtime Networks Inc.
"I love it," Dinkins said of resuming his Regency breakfast habit. "You come half a dozen times here a month and you'll see everyone you want to see."
Just then, New York Police Commissioner Bill Bratton stopped by. A moment later, Dinkins spotted Jay Kriegel, a senior advisor at Related Cos., chatting with former top cop Ray Kelly.
Bratton's company for coffee, juice, etc. included his wife, the attorney and author Rikki Klieman; Kathy Lacey Hoge, senior managing director of Teneo Holdings; and her husband Jim Hoge, former editor of Foreign Affairs.
In a corner table deep in the restaurant was Joe Lhota, the Republican candidate in the last New York mayor race, who is now chief of staff at NYU Langone Medical Center.
Filmmaker Spike Lee was in the booth next to Dinkins, with civil-rights activist Al Sharpton.
Bloomingdale's Helmets
Cozy foursomes were seated at plush robin's-egg-blue settees. Anne Keating of Bloomingdale's presided at one, sharing details of the party last night -- in the same space -- to celebrate the designer football helmets created in honor of the Super Bowl, a Bloomingdale's collaboration with the Council of Fashion Designers of America. (Members of the Tisch family co-own the New York Giants, who are co-hosting the Super Bowl with the New York Jets.)
The helmets, on display in the 59th Street store windows, will be auctioned to benefit the NFL Foundation.
Brighter Room
Adam Zeidel, Justin Palmer, Alex Tuttle and Albert Picallo are real-estate guys and a newer wave of Power Breakfast habitues. When the foursome started meeting at the Regency in 2011, "the room was on fire, and we had the idea to make it a regular thing," said Palmer, a partner at Synapse Capital.
Even more Tisches present included James Tisch, Loews Corp.'s president and CEO, and his children Ben and Jessica, who got to say hello to her boss at the NYPD, Bill Bratton.
Suri Kasirer, president of Kasirer Consulting, said she was glad to see so many women in the room. "It's brighter and airy, not as clubby," Kasirer said of the renovated space. She dined with Lisa Linden, CEO of LAK Public Relations Inc. Their neighbors were Gloria Scott, a board member of Loews Corp., who was meeting with Anna Maria Chavez, CEO of the Girl Scouts of the USA.
Some of the feminine-friendly decor may be courtesy of Lizzie Tisch, Jonathan Tisch's wife. She advised on renovations including a flowering-tree wall sculpture in the lobby, crafted by Brooklyn-based artist Nina Helms.
The only thing missing from the Power Breakfast today seemed to be an appetite: most pecked or passed on the shortened menu offering oatmeal, yogurt, omelettes or eggs Benedict.
Before it's here, it's on the Bloomberg Terminal.
LEARN MORE