India's Farmers Benefit From Better Roads, Which May Help Singh
Production has doubled in the past decade under Prime Minister Singh
By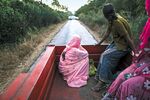 For three decades, Lahu Bhiwa, a rice farmer in India, loaded his crop onto an ox cart and sold it to families in his village, earning about 2,000 rupees ($32) a month. His life changed in 2010, when bulldozers cleared the way for a paved road linking Kainad, where he lives, with the western coastal town of Dahanu. The asphalt road turned a three-hour journey by foot along a dirt path into a 25-minute car ride. That's meant quicker and more frequent travel to Dahanu to buy fertilizer, seeds, and other supplies, and access to bigger markets and more buyers.
Bhiwa, whose monthly income has tripled to 6,000 rupees since the road was built, now sells to the highest bidder and checks benchmark prices on a mobile phone bought with the extra money he's earned. "Our life has completely changed for the better ever since this road was built," he says.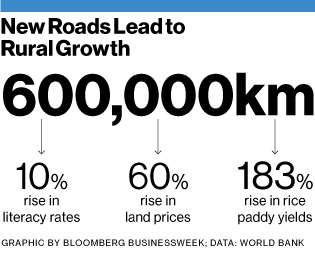 In the 10 years since Prime Minister Manmohan Singh took office, the growth rate of India's food output has doubled, boosted by the replacement of dirt paths with 600,000 kilometers (373,000 miles) of paved roads, the addition of 327 million rural phone lines, and a record improvement in literacy. Although India's GDP growth is near a 10-year low, the increase in food production has prevented a deeper slump and could tilt an election in May in favor of Singh's ruling Indian National Congress party. "What we see is a fundamental break from the past," says Ganesh Kumar, an agricultural researcher at the Indira Gandhi Institute of Development Research in Mumbai. "Higher farm output has kept rural demand alive and kicking, and that definitely helped the economy [avoid] a much more severe deceleration."
Singh's base is made up of rural voters such as Bhiwa who credit the government with changing their fortunes. (Recent opinion polls project the opposition Bharatiya Janata Party will win the most seats but will fall short of a majority.) The number of rural Indians living on less than 816 rupees per month—the official poverty line—has fallen by about a third, to 217 million, or 26 percent of the population, during Singh's tenure, according to government data. Rural wages rose an average 6.8 percent per year in the five years through March 2012.
The government has more than doubled the guaranteed prices it pays farmers for wheat and rice and started a program to employ one adult in every poor rural household for at least 100 days a year. "Contrary to popular belief that growth in all things rural is driven by unrestrained government spending, we believe the changes are already showing signs of being self-sustaining," says Neelkanth Mishra, head of Indian equity strategy at Credit Suisse Group.
Economists say the measures are slowing the pace of growth—India's economy has grown at a rate below 5 percent in the past year after peaking at 11.4 percent in 2010. Prices on staples such as onions and potatoes are rising. "The problem is that policymakers focused too much on stoking demand," says D.H. Pai Panandiker, president of the RPG Foundation, a New Delhi-based economic research group. "The result is imbalances in the economy, now showing up in very high inflation and current-account deficit."
India's consumer price inflation rate held near 10 percent in December, the fastest in a group of 17 Asia-Pacific economies tracked by Bloomberg. The current-account deficit widened to $88 billion, or 4.8 percent of gross domestic product, in the 12 months through March 2013, from $78 billion the year before.
"The worry about inflation is legitimate," Singh said at a party meeting in December, "but we should recognize that incomes for most people have increased faster than inflation."
In Kainad, rising fortunes have brought a jump in land prices. An acre now goes for 1.5 million rupees, about seven times more than the prices before the new road was built, according to Dilip Choradia, a farmer. Many houses have television sets, and youngsters aspire to buy motor-cycles. Choradia now produces his crops year-round, thanks to the increased demand for them resulting from easier access to cities. "You get a much better price and much more money," he says. "This road has become our lifeline."
BOTTOM LINE -
The bottom line: Rural voters benefiting from Prime Minister Singh's antipoverty efforts could push the May election in his favor.
Before it's here, it's on the Bloomberg Terminal.
LEARN MORE